Movie Review: "The United States of ALEC"

"The United States of ALEC" — a film review by Gary Chew
The elephant is this room is not the Republican Party, although it is a reasonable facsimile. What it is, actually, is a quasi-non-profit, tax-exempt, longstanding, corporate lobby group that's the subject of a film documentary titled "The United States of ALEC." It has nothing to do with the actor Alec Baldwin; quite conversely, ALEC stands for the American Legislative Executive Council.
Common Cause, another lobby group with totally "one-eighty goals," is behind "The United States of ALEC" film. The crowd that showed up recently for the screening at Sacramento's Crest Theater was totally partial to the position Common Cause takes in the documentary. Its on-screen host and narrator is that indefatigable liberal, Bill Moyers. Bill is one of America's small number of liberals who speaks in, what I call, an Okie-Tex accent.
Moyers reports that the early progenitors of ALEC are former Supreme Court Justice, Lewis Powell; far right religionist, Paul Weyrich and another person who once lived in Sacramento by the name of Reagan. Justice Powell was nominated to the Supreme Court bench by another prominent Californian who missed the chance to live in Sacramento back in the early 60s. His name was Nixon.
ALEC's a fundamental strategy is to bring corporate executives and other prominent business leaders into behind-the scenes collaboration with elected representatives and senators … no not the ones who go to Washington, DC, but those who frequent the halls of all legislative chambers of the several states known to be a part of the United States of America.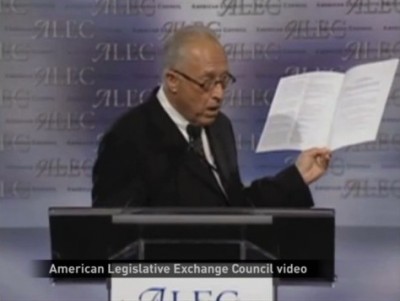 Their product is the seed for documents that give life to all kinds of laws that benefit the profit of the private sector … usually at the expense of the public sector — and a majority of US citizens.
A couple of Common Cause counteractions directed at ALEC are known as the ALEC Accountability Act, as well as a complaint lodged by Common Cause with the Internal Revenue Service against ALEC's cozy taxation status.
According to the film, the American Legislative Executive Council's success rate at bringing bills into law that favor the group's desired privatization and FOR-profit causes is remarkable.
"The United States of ALEC" is much like other liberal and progressive documentaries that primarily target the politics of strong, yet quiet connections between elected public officials and the private sector. Moyers has long been a champion of such left/center efforts, all the way from the LBJ Administration, to stints with CBS News and PBS … and now … in his later years, as an independent producer of information that's, more often than not, ignored — or overlooked by mainstream news organizations.
Common Cause is pushing for its members to schedule by-inivation home-showings of "The United States of ALEC." Besides its website, Common Cause has another site that's available for continuing updates about it's efforts against ALEC. That's site is: ALECEXPOSED.ORG. The 40-minute film will not be shown in extended run, so far as I've been able to find, at local commercial movie theaters. A thirty-one minute, truncated version of the film can be seen as the first item that initially aired on PBS last November. The Moyers and Company web site is here.
The following two tabs change content below.
Latest posts by Gary Chew (see all)
Like the above content? Leave a comment below! Get notified of new content on HumorTimes.com: Subscribe via email!