Dangerous Animals and Situations in the Grand Canyon and How to Deal with Them
Handy guide: Confronting dangerous animals and other situations.
What to do if you are visiting the Grand Canyon and:
you are confronted by a black bear:
Calmly stand your ground and fight back. Do not run as they will chase you.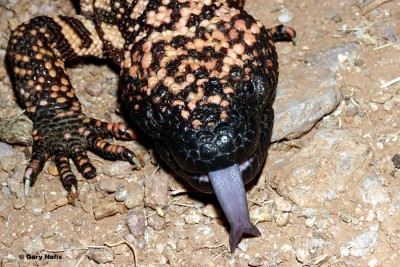 a rock slide occurs above you:
Quickly try to determine where the rock slide is coming down and run horizontally in the opposite direction.
you are walking along the street and a car with California rental license plates is coming towards you:
RUN!!!!! RUN FOR YOUR LIFE!!!!! QUICK!!!!!JUMP IN THE DITCH!!!!
a rattlesnake is rattling his tail on the trail where you are walking:
Calmly jump quickly in the opposite direction from where it is. If it does bite you, keep a cool head as they do not inject venom more often than they do.
if you are crossing the street and an auto with California rental plates is coming towards you:
IMMEDIATELY DIVE IN THE DIRECTION YOU JUST WALKED FROM!!! HURRY!!!
if you are find yourself near a mountain lion:
Calmly make yourself appear bigger than you are and stand your ground. If they attack, fight them vigorously.
if you find yourself at a point and a car with California rental plates is coming in:
JUMP OFF THE CLIFF INTO THE CANYON!!! IT IS THE BETTER OF THE TWO FATES!!!!! DON'T HESITATE!!!!!!!
if you fall in the river:
Calmly turn face up with your feet downriver and paddle backwards towards the closest beach.
if you are in your car in a supermarket parking lot and a car with California rental plates pulls quickly in next to you you should:
DUCK DOWN QUICKLY AND COVER YOUR HEAD!!!! PRAY FERVENTLY TO WHATEVER GOD YOU BELIEVE IN!!!!!! DON'T COME UP UNTIL YOU HEAR THEM TURN OFF THE ENGINE!!!!!DON'T LEAVE THE CAR UNTIL THEY ARE GONE!!!!!!!
if you are confronted by a gila monster:
Calmly stand still where you are. Observe the gila and see if it is agitated. Back up and walk a different way around it.
if you are going down a highway off ramp and a California rental car is coming up the ramp at you:
IMMEDIATELY TURN AROUND AND GO IN THE OPPOSITE DIRECTION!!!! IF YOU CAN'T BEAT THEM, JOIN THEM!!! BETTER TO RISK GETTING HIT BY ONE OF YOUR OWN STATES MEN THAN TO RISK GETTING HIT BY SOMEONE IN A CALIFORNIA RENTAL CAR!!!!!!
In closing, you may confront dangerous animals and other situations while experiencing the Grand Canyon. There are a small population of creatures that can harm you, bears, cougars, snakes, gilas, bobcats and squirrels, but with caution their dangers can be avoided. But, whatever you do, FOR GOD'S SAKE DON'T EVER GO DRIVING IN CALIFORNIA!!!!!!!
The following two tabs change content below.
Roger Freed has a fertile, if somewhat warped, imagination. Read him at your own risk! More laugh gaffes available at
Semi-Humorous Humor
. For something in a more serious mode get "The Book Of Songs" by Roger Freed from Lulu.com. A collection of short stories illustrating the subtle and powerful influence music can have on our minds and our spirits.
Latest posts by Roger Freed (see all)
Like the above content? Leave a comment below! Get notified of new content on HumorTimes.com: Subscribe via email!