New Star Wars Film Spoilers! Yes, We're Mean! Bwhaaa, haha!
Being the first to see the new Star Wars has its perks!
Bwaaa Haaa Haaa Haaa!
Ah, the power that comes with being one of the first ones to see the new Star Wars movie!
It is like being showered with the Dark Side of the Force!!!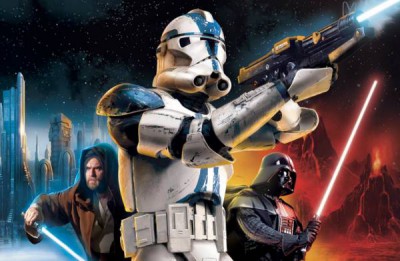 Bwaaa Haaa Haaa Haaa!
Yes, Hans Solo does come back in this new film — using a walker to get around. He finds the two new characters in his precious Millennium Falcon and yells out to them "Hey you kids! Get off my ship!" Then his dentures fall out and you can only hear him yelling in a voice that sound s as unintelligible as Chewbacca's.
Speaking of Chewbacca — he looks great except for those bald patches of his Wookie hair that have fallen out. Luckily they got some fir off those Muppet aliens they had in storage from the first two Star Wars and glued them in. Only problem is they are pink and blue.
Princess Leia shows up as well. Really wish she hadn't worn that skimpy Jabba the Hut dancer outfit she had in Return of the Jedi. The film almost got an R rating when the top part of it burst from trying to cover up too much flesh that wasn't there the first time she wore it. She has also gone back to wearing those Hopi native side buns in her hair that she had in the very first Star Wars. Unfortunately she looks a grounded Dark Side Tie fighter because of it and is blasted early on.
C3PO and R2D2 are along for the ride too, unfortunately in very limited scenes as the accumulated rust of four decades takes it toll. In the meantime R2D2 has learned to speak English and it turns out his speech is laced with robotic vulgarities and has to be heavily censored. (Who would have guessed that droids were capable of such comments of degenerative forms of mechanical sex?)
And, the moment we have all been waiting for — the return of Luke Skywalker. He is only on the screen for a few seconds when he rips off his latex mask revealing — get ready for this — his father's mangled face beneath it!!! — Yes, this is the big shocker for the new movie! It turns out that Vader really killed off Luke in Return of the Jedi and secretly took his place. He has been covertly spreading the Dark Side of the Force throughout his branch of the universe for the last 40 years and getting away with it. The last 40 years haven't made him any better looking either.
The revelation of Luke really being Darth Vader changes the whole Star Wars scenario. It means that all the Jedi Knights are dead and gone destroying the whole point in making any more Star Wars films. Disney and Abrams cannot make any more 'good Side of the Force' films. This means that Disney is going to lose a huge fortune in what it put out to buy the rights for the film series from George Lucas four BILLION dollars.
Oh well, they could just make a whole series on the Dark Side of the Force. Call it 'The Black Hole Wars." Change the whole universal Disney theme to something more Goth. It would save them a lot of money. The only two colors they would need to paint the theme parks would be black and grey.
Oh, just to ruin more of the film for you — Mr. Spock dies at the end and the whole Avatar race of the Na'vi get exterminated. Also, the Terminator gets initiated as a Sith Lord.
Now go enjoy the movie!
– – – – – – – – – –
Writer's commentary: In all fairness, Abrams has made a truly decent new Star Wars movie. It harkens back to the first two films which were my favorites. I had my suspicions that Disney or Abrams would ruin the whole Star Wars concept but they have remained true to the original ideal of the series, Apparently Disney stepped aside and let Abrams and the writer Lawrence Kasdan, one of the original writers, make the film according to their vision of it. And Abrams did not put in the wild changes that he did in his Star Trek series of films.
The movie succeeds wonderfully. Although it has its flaws it works. It brings back the original spirit of the story and of the Force in a way I thought it never would again. There are little touches in the film, especially with newcomer Daisy Ridley, that give it the spirit it needs
May the Force be ever with us!!!
rfreed
The following two tabs change content below.
Roger Freed has a fertile, if somewhat warped, imagination. Read him at your own risk! More laugh gaffes available at
Semi-Humorous Humor
. For something in a more serious mode get "The Book Of Songs" by Roger Freed from Lulu.com. A collection of short stories illustrating the subtle and powerful influence music can have on our minds and our spirits.
Latest posts by Roger Freed (see all)
Like this content? Leave a comment below! Get notified of new content on HumorTimes.com: Subscribe via email!