Ripping the Headlines Today, 6/6/16
Making fun of the headlines today, so you don't have to
The news doesn't need to be complicated and confusing; that's what any new release from Microsoft is for.  And, as in the case with anything from Microsoft, to keep the news from worrying our pretty little heads over, remember something new and equally indecipherable will come out soon.
Really all you need to do is follow one simple rule: barely pay attention and jump to conclusions. So, here are some headlines today and my first thoughts: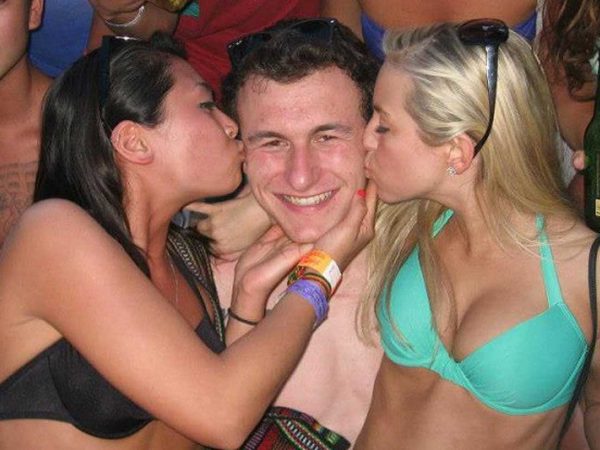 Johnny Manziel reportedly goes missing in New York
Well, on the upside, even kidnappers would give this guy an unconditional release.
Trump Tower Toronto to be sold off after debt default: Report
Great, now he's even outsourcing his bankruptcies.
Rolling Stone Ronnie Wood's wife, Sally, gives birth to twin girls
Big deal, Mick Jagger's had twins lots of times.
U.S economy only added 38,000 jobs in May
You'd think Kevin Hart alone had more jobs than that in May.
Lawsuit alleges McDonald's drive-thru discriminates against blind customers
While the food discriminates against people with taste buds.
Trump: 'Look at my African-American over here'
Well, at least, he's sounding more presidential. That is, if he were running when people could own slaves.
Microsoft is offering a free update…
And 'word' is it's overpriced.
Hillary Clinton carries the Virgin Islands
Although, with Bill having spent time there, they're going to have to change the name of the islands.
Stephen Hawking: Theoretical Physicist says he can't understand Trump's popularity
And, if he can't, what chance do the rest of us have?
Nixonian palace guard now protects Hillary
Good for them, working at their age…
House Speaker Paul Ryan endorses Trump
Look for a book on it titled 'Atlas Caved.'
'National Enquirer' hires Dick Morris
So they went from 'Bigfoot' to 'Bigfoot in Mouth.'
Teacher had sex with her 8th grade English student almost daily
Sounds less like English, more like multiplication to me.
Happy 75th birthday, Bob Dylan
I worry about Bob. If he had a stroke, how would anyone know?
Mitch McConnell boasts, 'There is no dysfunction in the Senate anymore'
That's because no one is ever there…
The following two tabs change content below.
Paul Lander
Paul Lander is not sure which he is proudest of -- winning the Noble Peace Prize or sending Sudanese peace activist, Fatima Ahmed Ibrahim, to accept it on his behalf, bringing to light the plight of central Africa's indigenous people. In his non-daydreaming hours, Paul has written and/or Produced for shows on FUSE, Showtime, The Disney Channel, ABC Family, VH1, LOGO, XM/Sirius and Lifetime. In addition, he's written standup material that's been performed on Leno, Letterman, Conan, "Last Comic Standing," etc., Hobo Pancakes and Humor Times. Now, on to Paul's time-commanding Special Forces in Khandahar… (See all of Paul's
"Ripping the Headlines Today" columns here
.)
Latest posts by Paul Lander (see all)
Like the above content? Leave a comment below! Get notified of new content on HumorTimes.com: Subscribe via email!