Humor Times Cartoon Caption Contest — Enter to Win!
Enter to win our editorial Cartoon Caption Contest!
Have good cartoon ideas but can't draw a lick? Come up with your best caption and enter to win the Humor Times' Cartoon Caption Contest!
Study the cartoon, then write your idea for filling in the caption or talking bubble in the form below. (More info below the contest entry form.) Good luck!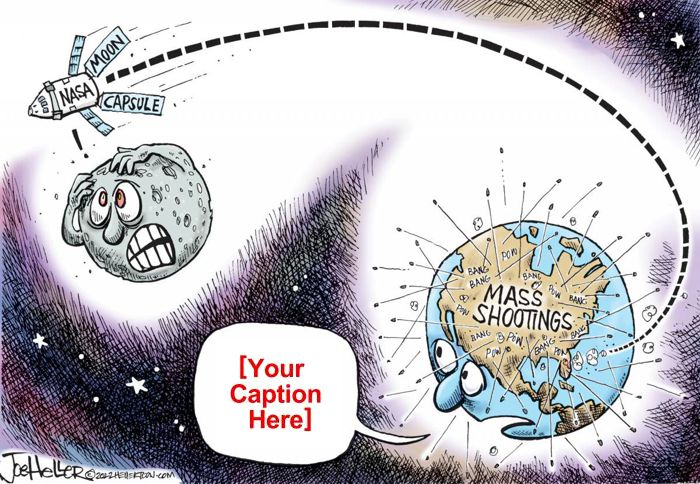 Enter your caption idea and your contact info in the form below. You may use an initial for your last name if you wish. Be sure to enter a working email address so we can contact you if you win. (We'll never share your information with anyone):
Only Humor Times Website Members can enter this cartoon caption contest. (Members have other privileges on the site as well, besides just being able to say how cool they are! If you haven't yet, you may login or register free here!)
Prizes: There will be multiple winners for each contest. (Prizes vary, often featuring humor or cartoon books, and a free one-year subscription to the downloadable PDF edition of the Humor Times monthly magazine.)
We'll notify winners by email, as well as post the winning entries on the WINNERS PAGE (shorten your last name to a single initial if you'd rather not reveal it).
Bookmark this page, and remember to come back and check for new cartoons. Tell your friends about the Humor Times' Cartoon Caption Contest! Please share on Facebook, Twitter, by email, etc, using the buttons below. Thank you!
See the Official Rules here.
The Humor Times is a monthly publication available by subscription in print or digital form. It's a great way to review the news with humor, an antidote to the caustic politics of our day. It always makes for a great gift, for friends, relatives and co-workers. Students love it too, and it's a great way to get young folks interested in politics — teachers even use it in classrooms!
Check out a recent back issue in "flip page" format here, and/or request a free sample copy in the mail ($1 shipping and handling charge in the U.S.)