Anti-satire effort backfires; prompts more satire
It was announced Friday that President Obama has declared October 19 "National Satire Day." The date, for those unfamiliar with satire, is the birth date of one of the most referenced satirists in history, Jonathan Swift.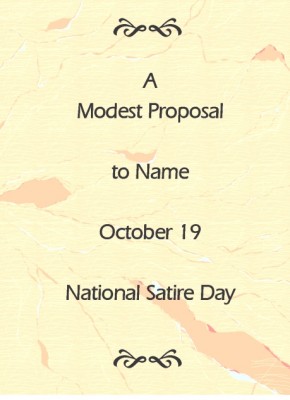 Swift's essay, A Modest Proposal for Preventing the Children of Poor People From Being a Burden on Their Parents or Country, and for Making Them Beneficial to the Publick, or simply, A Modest Proposal, has been the basis for many an argument about what subjects are and are not suitable for public reader consumption. The story proposes that poor Irish folk sell their children to the rich for consumption. Not surprisingly, the essay was published anonymously, as are many pieces of modern-day satire.
Nevertheless, satire in its less Juvenalian form, can provide a much-needed break from the stresses of ordinary life, a chuckle as it were to some of the most pressing issues of our time, including an ugly Presidential race.
Mitt Romney's advisers are against National Satire Day for obvious reasons. A poll recently conducted by Poll Pro's Humor Division indicates that the majority of negative satire is aimed at the Romney camp. President Obama, on the other hand, is often less of a target, although when he is satirized, the satire is sometimes highly offensive, which turns off most readers just looking for a good laugh.
The bottom line seems to indicate that more harm is being done to the Romney campaign by satire than by any other source, and therein lies the reason for the Romney camp objecting to naming October 19 National Satire Day.
President Obama is aware of Romney's complaints and says his naming this national day just one month before the Presidential election is a mere coincidence.
"I've been reading satire ever since I was a student at Harvard when one of my classmates turned me on to the Harvard Lampoon," said the President.
"I find it a refreshing respite from the seriousness that life throws at us, and I am certainly one who can laugh at myself, unless, of course, I'm being characterized as a monkey. That is simply an affront to my sensibilities," he cautioned.
"Most satirists associate with Jonathan Swift more than any other writer in this genre although, of course, not with his point of view about eating children," he quipped. "However, I believe it is still fitting to use his birthday as the day to honor satirists nationwide," said the President.
"I do find it quite ironic that Swift was born in October, giving satirists the opportunity to do their best writing just a month before the election," Obama concluded. "After all, doesn't irony play a huge part in a well-written piece of satire anyway?"
Latest posts by P. Beckert
(see all)