Life's a bitch for gored bull runner
Bill Hillmann, American bull runner and author of Fiesta: How to Survive the Bulls of Pamplona, was badly gored during Spain's annual Pamplona bull running festival.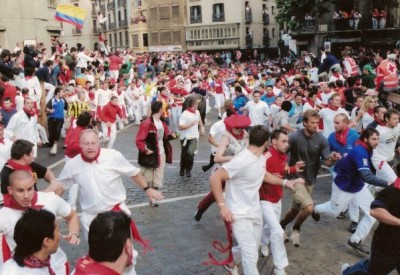 The Chicago born expert was gored in the groin region early Friday morning, the Navarran regional government said in a statement.
Despite facing off against a bull weighing more than 1,300 lbs, or two average American teenagers, his injuries were described as "ironic but not life-threatening."
The injury comes just weeks after Hillmann's book was published, something that the author proudly described as "the ultimate guide to surviving" any bovine-related scenario possible.
Offering essential tips to bull runner enthusiasts, Hillmann actively encourages readers to "twist the animal's tail" and "to never show fear, never run, stand still and look that bastard straight in the eye."
As runners dressed in white outfits and red scarves dashed through the city's narrow streets pursued by raging beasts, Hillmann was being hoisted into the air, as he screamed "For the love of God, my groin, my groin!"
One of the author's friends, the man behind the best selling How to Survive the Impending Apocalypse, Alex Finlay, said that Hillmann underwent surgery Friday evening. Writing on his blog, Finlay said his friend seemed to be doing well.
In an earlier comment made in June, Finlay referred to the bull runner as "a brave man, a man with the biggest balls in the biz," a comment he might very well regret making.

Latest posts by John Glynn
(see all)