Lance Armstrong to be played by Matthew McConaughey
Last year, during that infamous interview, Oprah randomly suggested that Academy Award-winner Matthew McConaughey ought to play Lance Armstrong on the big screen. Now, according to Rolling Stone reports, the Interstellar star has agreed to play the pedaling villain in One Ball, Stand Tall, Back Against the Wall. The movie will be directed by Steven Soderbergh, a man Roger Ebert once dubbed "a bald turd."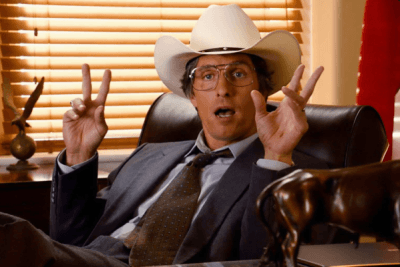 Backed by Warner Bros., the project has been passed around Hollywood more than a doobie at a Willy Nelson gig. At one point, reportedly, the script was in the hands of Spielberg and even Paul Greengrass, who in turn used it as toilet paper.
The story follows a truly epic battle between good vs. evil, or, in more basic terms, everybody in the world vs. Armstrong and his loyal dog, Rex.
Born in Uvalde, Texas, McConaughey had a six pack by the age of three. After reading the inspirational John Grisham book Where's Waldo? Hollywood, Baby, That's Where, Matthew pursued a career in acting.
Having won critical acclaim for his role as Ron Woodroof in Dallas Buyers Club, the actor reportedly survived on a diet of laxatives and cardboard to reach 3.5 stone, roughly the same weight as Keira Knightley.
Matthew, 45, said: "I had to relearn how to entertain myself, because I wasn't going outside, I wasn't going to dinner, not many restaurants serve cardboard. I was reading so much more, largely because I was on the toilet quite a bit… you know, because of the laxatives."
One Ball, Stand Tall, Back Against the Wall is due for release in August 2015.
Latest posts by John Glynn
(see all)