Assembles own 'Trump supporter' team to do heart transplant
(This is a reprint of an earlier interview.)
To show his confidence in the President's philosophy, avid Trump supporter I. M. Lemming has decided to follow his idol's example and do so publicly. "Just like President Trump cleared out all of those Washington elites and brought in new blood with appointments of people without the taint of government experience, I've decided to do the same thing with my heart transplant surgery."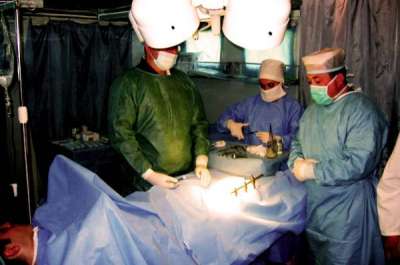 Just two weeks before his surgery, Mr. Lemming has canceled his surgery at John's Hopkins and fired his team of eminent heart transplant surgeons claiming he was no longer going to support the "East Coast elite."
Mr. Lemming asserts that just as President Trump's business knowledge and skills translate to skills in running the government, he has now amassed a team of experts with parallel skills to do his heart transplant. "The lead surgeon will be Ernie, the mechanic who replaced the engine in my BMW, the heart of my beloved car. The attending surgeon will be Jake, my plumber, who is an expert in making sure that everything is hooked up right."
He stated further, that in preparation, both men are taking an anatomy course at the local community college.
For a moment, stunned reporters were silent. Then someone from Fox news asked where this "brave Trump supporter" had found a hospital that would allow him to do this. Mr. Lemming replied that they are checking into a room in Mar-a-Lago and to make sure everything is sterile, he is having his pest control man spray the room ahead of time. They will empty the minibar to make room to store the heart for transplant.
They are still searching for an anesthesiologist, but the favorite on the list so far is the person who performs the euthanasias at the local animal shelter.
"I only hope that using President Trump's approach to selecting my team will make my surgery be as successful as his presidency has been so far."
Postscript: In lieu of flowers, Mr. Lemming's family is asking that donations be sent to the "Re-elect Trump 2020" campaign Mr. Lemming established on go fund me before his untimely demise.
The following two tabs change content below.

Diane de Anda
Diane de Anda is a third generation Latina and retired UCLA professor. Tired of cranking out technical articles in a "publish or perish" atmosphere, she now spends most of her time writing adult fiction, children's books, parody, and satire. Her weapon of choice is the limerick, aimed with humor and a touch of malice at society's icons, celebrities, politicians, and other irritating folk.

Latest posts by Diane de Anda (see all)