As of the first of the year, the Humor Times magazine is being carried nationally by Barnes & Noble — and now features almost all color throughout!
We are excited to announce that the first issue ever of the Humor Times will be available in Barnes & Noble stores (and others) across the nation, starting with the new year.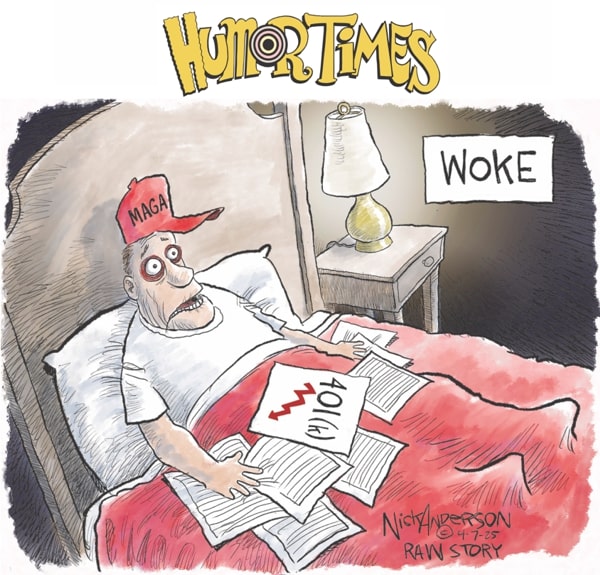 If you have never seen a copy of the Humor Times magazine, stop by a Barnes & Noble and check it out! The monthly magazine is basically a review of the news, told the fun way. We use the finest editorial cartoons by the best cartoonists, arranged by subject and strung together with a running narrative, to re-tell recent news stories in a hilariously satirical manner. (The magazine features many more editorial cartoonists than we have on this website.)
Political humor is big these days, on so many TV shows, online and in print — and for good reason. People are thirsty for the comic relief. The political battles being fought now are critical to the future of our nation, and it's easy to get burned out by the seriousness of it all. That's where we come in!
We make it entertaining, but we don't hold back any punches. Politicians, celebrities, the media – they are all richly deserving of the satirical treatment we deliver.
We have also added a lot more color to the printed publication. Whereas before it was 20% color, now it is 80% color.
Thank you for visiting our website, but please, check out the magazine. Besides the stores, you can order a discounted three-issue trial run here for just five bucks, to be mailed right to your door!
Please share your discovery of the Humor Times — both online and in print — on social media. See our Facebook page and follow us on Twitter).
And don't forget, the Humor Times magazine makes a great gift, for anyone who follows the news and has a sense of humor! Right now, you can get $5 Off with our New Year's Special, good through January 31st. Give subs to friends, family, coworkers – even yourself! Subscriptions are available worldwide, in print or digital formats.
We welcome your feedback, whether by email, regular mail, or on our website or Facebook page comments.
Thank you very much, and enjoy!
The following two tabs change content below.

The
Humor Times
is the "World's funniest news source!" Sure, we like to inform our visitors, but in a playful sort of way. We believe political satire is one of the best ways to help folks let down their defenses and see things in a new light, as well as to help bring haughty leaders back down to earth. Plus, it's just plain fun! The
Humor Times magazine
(delivered to your door 12x/year) is a great way to enjoy this brand of humor, it makes a wonderful gift, and
SUBSCRIPTIONS
are very affordable!

Latest posts by Humor Times (see all)