Cartoons by Dan Rosandich
A new cartoon every day. Bookmark and enjoy!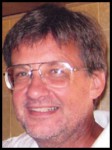 Cartoonist Dan Rosandich has been a full time cartoonist since the mid 1970's. With no formal art schooling and only a strong desire to draw cartoons, Rosandich sold his first cartoon to a magazine titled Mechanix Illustrated. Later, Rosandich's work began to appear in American Medical News, Medical Economics, Intermountain Contractor magazine, Building Briefs magazine, Constructioneer, Kansas Lawyer and many other specialty publications.
He also has published cartoons in national magazines such as Saturday Evening Post, The National Enquirer, Better Homes & Gardens and National Review.
Dan enhances his magazine cartooning by offering his illustration services to authors, writers and book publishing companies and has illustrated books for comedians and consultants and other professionals. Many of his single panel cartoons have appeared in Chicken Soup For The Divorcee's Soul, The Christian Soul, The Pet Lover's Soul and many other titles.
Dan's online cartoon catalog has been available on the web for well over 10 years. His work is cataloged by subject matter to make images easier to find, and thousands of cartoons are available for licensing in books, newsletters, newspapers, brochures, catalogs, calendars, posters etc.
Follow Dan on Facebook and visit his Cartoons For Licensing cartoon catalog if you seek a daily web cartoon or want to license quality cartoons for your next professional project.
The following two tabs change content below.

The
Humor Times
is the "World's funniest news source!" Sure, we like to inform our visitors, but in a playful sort of way. We believe political satire is one of the best ways to help folks let down their defenses and see things in a new light, as well as to help bring haughty leaders back down to earth. Plus, it's just plain fun! The
Humor Times magazine
(delivered to your door 12x/year) is a great way to enjoy this brand of humor, it makes a wonderful gift, and
SUBSCRIPTIONS
are very affordable!

Latest posts by Humor Times (see all)