Help support the Humor Times: Donate!
We can use all the help we can get! If you enjoy the Humor Times website and/or publication, please consider donating a little or a lot. It takes time and resources to do what we do, and whatever you can donate will make a big difference!
A great way to help is to set up a regular monthly donation, small or large at the Humor Times Patreon.com page. (See more info below.)
Of course, subscribing to the Humor Times monthly magazine is always a great way to support us, and get the benefit of a monthly boost to your well-being with a lot of hearty belly-laughs! (See more info below.)
You may also use the "Like this content?" form on every post page (near the top of the right column), and donations will be split 70/30 with the writer or artist of that page.
Or use the form below to send your entire donation to help keep the lights on at the Humor Times!
Thank you!
---
Donation form:
Please note: PayPal acts as the credit card merchant processor, so you can use a credit card without joining PayPal, if you like.
---
Other ways to support/enjoy the Humor Times:
Subscribe to the monthly magazine!
Our popular monthly hard-copy magazine is the perfect cure for an unfunny world. And the Humor Times magazine makes a wonderful gift – one that keeps your friends and relatives laughing all year long!
Subscriptions are available worldwide, both in print and/or in digital form. Click here to order a FREE sample! ($1 shipping & handling charge in the U.S., $3 elsewhere.)
Share! Share! Share!
Use the share buttons on every page to help spread the word about the Humor Times! This is one of the easiest, yet most effective things you can do! Thank you!
Become a regular Humor Times patron!
Consider joining the growing ranks of Humor Times patrons via Patreon.com! Help us keep the lights on with a small (or large!) sustaining monthly donation. Support independent media!
Our big thanks to all our monthly patrons!
Get the Free Humor Times 'News in Cartoons' Political Satire App!
Get the FREE Humor Times app! Review the news each week in hilarious fashion as the world's best editorial cartoonists tackle political figures and expose their shenanigans, all tied neatly together with a running narrative above the cartoons. The "News in Cartoons" app also features a bonus cartoon and funny political video of the week! (For now, only an Android version is available. We are working on other versions.)
For more information, see our About the Humor Times page.
We welcome your feedback. Thank you!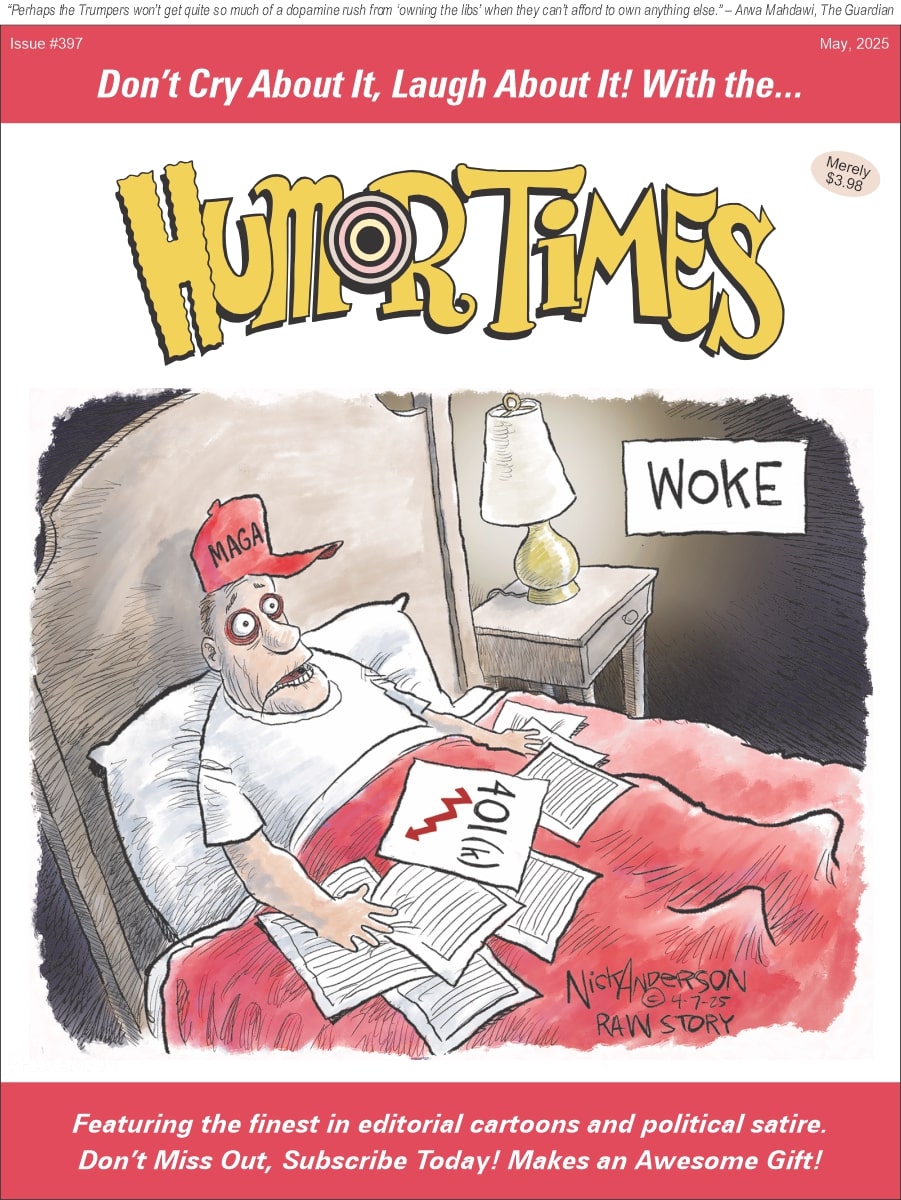 The following two tabs change content below.

The
Humor Times
is the "World's funniest news source!" Sure, we like to inform our visitors, but in a playful sort of way. We believe political satire is one of the best ways to help folks let down their defenses and see things in a new light, as well as to help bring haughty leaders back down to earth. Plus, it's just plain fun! The
Humor Times magazine
(delivered to your door 12x/year) is a great way to enjoy this brand of humor, it makes a wonderful gift, and
SUBSCRIPTIONS
are very affordable!

Latest posts by Humor Times (see all)