It's the hottest trend in advertising: Attract readers of all ages with cartoon ads!
Businesses have been wrestling with the best way to attract attention since the first merchants began hanging shingles in the earliest civilizations. With the advent of the internet in modern times, it seemed like it might get easier, but it's actually more challenging than ever, due to the over-saturation of business web pages. Enter Cartoon Ads!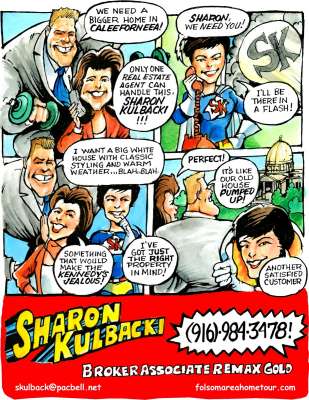 Cartoons and comic strips have been popular with readers since the first cartoonists put pen to paper. They naturally draw the attention of all ages, and that's why it's the first section most readers go to in newspapers — if they still read them — and why cartoon websites are among the most popular, high-ranking sites on the internet. But not many advertisers have taken advantage with their own cartoon ads. That's where we can help!
The Humor Times monthly magazine (formerly the Comic Press News) has been featuring cartoons and comic strips of all kinds since its inception in 1991 — although we feature political cartoons, being a political satire publication. Of course, we continued that tradition when we launched our first website a few years later.
Naturally, we've featured many cartoon ads through the years. The most recent is the Sacramento cannabis club A Therapeutic Alternative's comic ad, which features Michael Capozzola's very creative strip, "Dr Quince, Pot Medicine Woman." It first appeared in the April 2017 issue of the Humor Times: see the comic ad series here.
The Humor Times has a very talented and creative stable of cartoonists at the ready to help create a cartoon ad series that will bring fresh attention to any business, and will work in any publication or on any website. We wholeheartedly encourage business owners and managers to look into this relatively untapped marketing strategy! We think you will be pleasantly surprised at its effectiveness.
And as an added bonus, it's fun!
Improve company morale with cartoon ads they star in!
You can involve employees by modeling cartoon characters after them, boosting company morale and inspiring them to draw more attention to the ad campaign — effectively creating an extra-motivated sales force!
And instead of wasting money on ads most people just gloss over, wouldn't it be better to invest in an ongoing, intriguing storyline for your business? Tell your tale any way you want, and let our talented stable of cartoonists help you make it engrossing and entertaining for readers.

Your cartoon ad could be based in reality; it could be fantasy, or a mix of both. You could involve readers in a game, giving them clues in each issue leading to discounts or a prize. It could be a space adventure, a western, anime; sexy, mysterious, exciting – anything – and everything traditional advertising is not!
You could opt to simply entertain readers with a funny, completely fictitious strip — or you could even make it serious and educational.
'Embedded advertising' is even more effective with cartoon ads
After all, cartoons allow for an amazing variety in concept, style and storytelling. Whatever your approach, readers will learn something new about you in every new ad in the series – perhaps something about your hopes and dreams, your sense of humor, or a little about what makes you and your business tick.
You will be raising readers' curiosity about your business, increasing the likelihood they'll want to come by and visit sometime – and isn't that the most important goal of marketing?
Another way to think of it is as "embedded advertising," a strategy many companies are using these days. Embedded ads blur the line between news and promotion, and it works. These cartoon ads are something similar, but much more honest – and far more entertaining!
Contact the Humor Times today for a free consultation and start a new comic adventure for your business. You won't be sorry!