The Humor Times is the "World's Funniest News Source," featuring the best in political satire!

We bring you the finest political satire and humor, including the best political cartoons and non-political panel cartoons, humor columns, satirical "Faux News," funny videos, political satire videos, user-created funny videos and much more. Take your time and explore the site!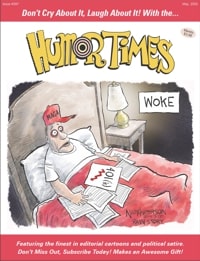 Subscribe to the monthly magazine!
Our popular monthly hard-copy magazine is the perfect cure for an unfunny world. And the Humor Times magazine makes a wonderful gift – one that keeps your friends and relatives laughing all year long!
Subscriptions are available worldwide, both in print and/or in digital form. Click here to order a FREE sample! ($1 shipping & handling charge in the U.S., $3 elsewhere.)
Become a Sustaining Supporter of the Humor Times via our Patreon Page!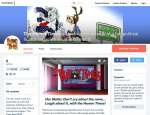 Help the Humor Times survive and prosper in the digital age. Unlike so many other publications and websites, we have not put up a paywall — we want to keep this much-needed political humor free, if possible!
The Humor Times' unique content takes a lot of time and effort to produce. But we do it because we believe uncompromising political satire is more important than ever these days.
If everyone who reads and likes our website helps fund it, even just a little bit, we can continue to help people "laugh at the news, rather than cry about it!"
Please consider becoming a Sustaining Supporter via our Patreon Page, contributing a certain amount each month. You can do it for as long or as short a time as you like. It's a huge help with our monthly budget!
For more information about us, please see our About the Humor Times page. We welcome your feedback. Thank you! (The Humor Times was formerly known as the Comic Press News.)