The Humor Times is the "World's Funniest News Source," featuring the best in political satire!

We bring you the finest political satire and humor, including the best political cartoons and non-political panel cartoons, humor columns, satirical "Faux News," funny videos, political satire videos, user-created funny videos and much more. Take your time and explore the site!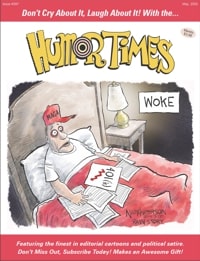 Subscribe to the monthly magazine!
Our popular monthly hard-copy magazine is the perfect cure for an unfunny world. And the Humor Times magazine makes a wonderful gift – one that keeps your friends and relatives laughing all year long!
Subscriptions are available worldwide, both in print and/or in digital form. Click here to order a FREE sample! ($1 shipping & handling charge in the U.S., $3 elsewhere.)
Get the Free Humor Times 'News in Cartoons' Political Satire App!
Get the FREE Humor Times app! Review the news each week in hilarious fashion as the world's best editorial cartoonists tackle political figures and expose their shenanigans, all tied neatly together with a running narrative above the cartoons. The "News in Cartoons" app also features a bonus cartoon and funny political video of the week! (For now, only an Android version is available. We are working on other versions.)
For more information, see our About the Humor Times page.
We welcome your feedback. Thank you!
Formerly the Comic Press News.