Don't cry about the news, laugh about it, with a subscription to the Humor Times! 'World's Funniest News Source'
The Latest Issue of the Humor Times is available now! There is a lot of great content inside every issue of the Humor Times that you'll love, and subscriptions are very affordable. Our rates are so low, in fact, that it's a joke in itself! (Already a subscriber? Login here.)
Subscribe today to the Humor Times print or digital edition at discounted rates, or, get your Free Trial … for, well, FREE! 3 issues!
(Free trial print only available in U.S.)
You may also order single issues, including the current issue.
Think about it. You spend a lot on entertainment. A single night out at the movies with a date can cost way more than an entire year of the Humor Times, depending on how much you spend on over-priced junk food, of course!
And subscriptions make great gifts as well. Graduating students love the intelligent humor, as do most adults. Even teenagers love it — in fact, many teachers use it as a tool to increase student interest in current events and politics.
Share the fun on Facebook, Twitter and by email (share buttons below)! Read on for more info…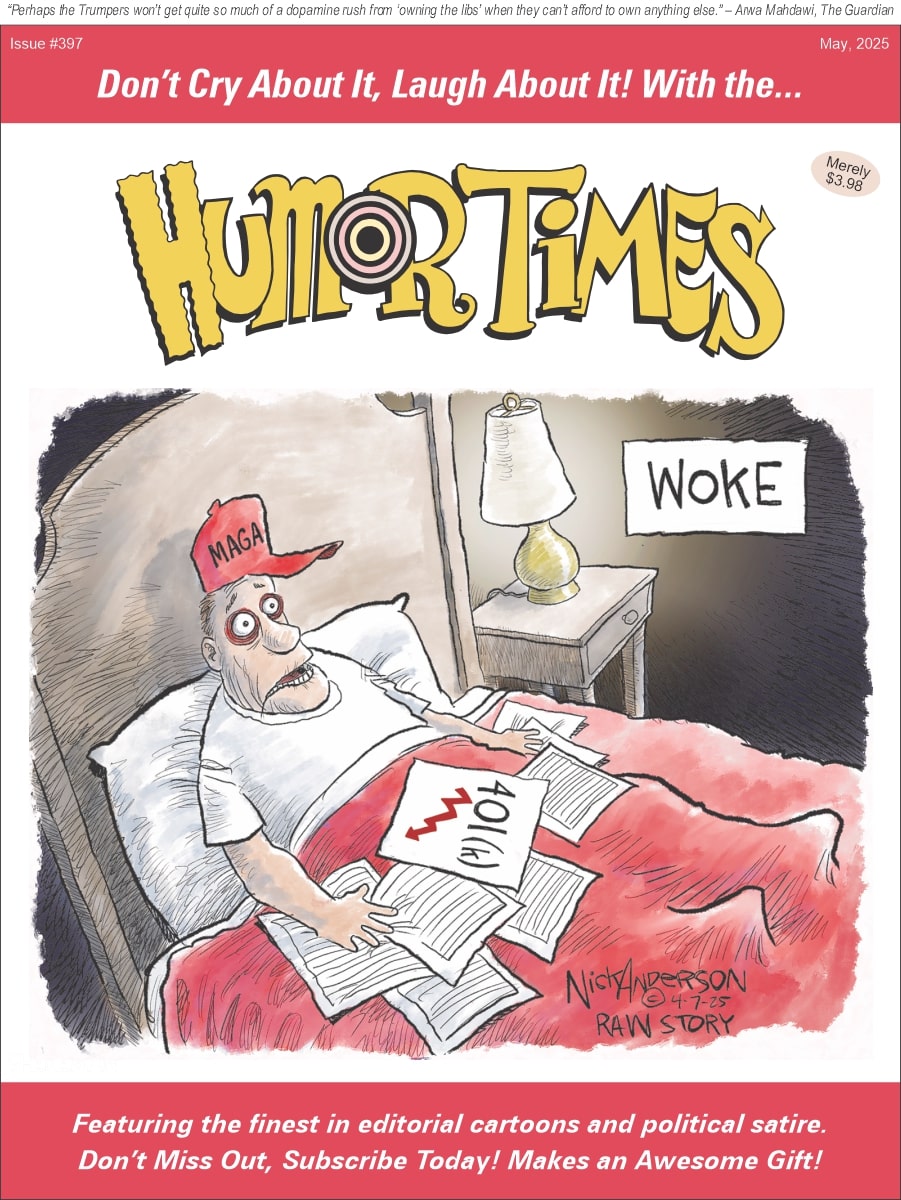 Subscriptions can be delivered to your mailbox, anywhere in the world. They are available in digital format, too, for half the print price: you have access to the most recent six issues at all times. Download all the issues and save them, if you like!
Thank you for visiting our website. We love our growing community of authors, contributors and readers, and hope that you'll be back soon.
If you like what we're doing here, please do one or more of the following:
Get the FREE Humor Times "News in Cartoons" app!
Subscribe to our RSS feed, so you can easily see summaries of new posts, and if something tickles your fancy, you can check it out.
Subscribe to our Free "Cartoon of the Week (& More!)" email newsletter.
Visit the Humor Times Facebook page and 'like' it (and maybe even add it to your favorites!).
Follow us on Twitter @humortimes.
Follow us on LinkedIn.
Check out the Humor Times magazine. Available in print or digital format anywhere the world, it is a welcome monthly jolt of political humor to help you "laugh about the news, rather than cry about it!" A digital preview of a recent back issue is available here.
Thank you so much, and see you next time!
Give subscriptions today, that the world may laugh again!