If saying the word vagina is not allowed, what is OK in Michigan? Answer the Poll!
Rep. Lisa Brown of Michigan was punished by being banned from speaking on the house floor, because she used the word "vagina" in a floor debate over a draconian anti-abortion bill. So, what is allowed in the "Land of 10,000 Lakes"?
Please answer our Humor Times Poll, then share it!
[poll id="20″]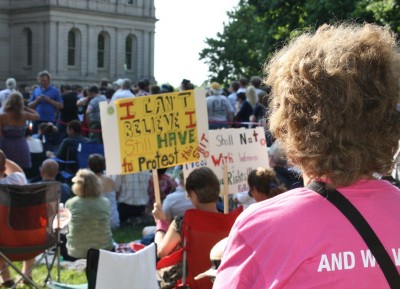 Rep. Brown later discussed her speech and her colleagues' reaction in an opinion piece for The Detroit News.
Brown and other female legislators later performed "The Vagina Monologues" on the steps of the capitol to a huge audience. The event finished up with Eve Ensler giving a rousing and powerful speech. The video below is courtesy of Progress Michigan and used with permission.
The following two tabs change content below.

The
Humor Times
is the "World's funniest news source!" Sure, we like to inform our visitors, but in a playful sort of way. We believe political satire is one of the best ways to help folks let down their defenses and see things in a new light, as well as to help bring haughty leaders back down to earth. Plus, it's just plain fun! The
Humor Times magazine
(delivered to your door 12x/year) is a great way to enjoy this brand of humor, it makes a wonderful gift, and
SUBSCRIPTIONS
are very affordable!

Latest posts by Humor Times (see all)