The Humor Times makes a very effective teacher's aid. Here's how to use the monthly print publication to pique students' interest.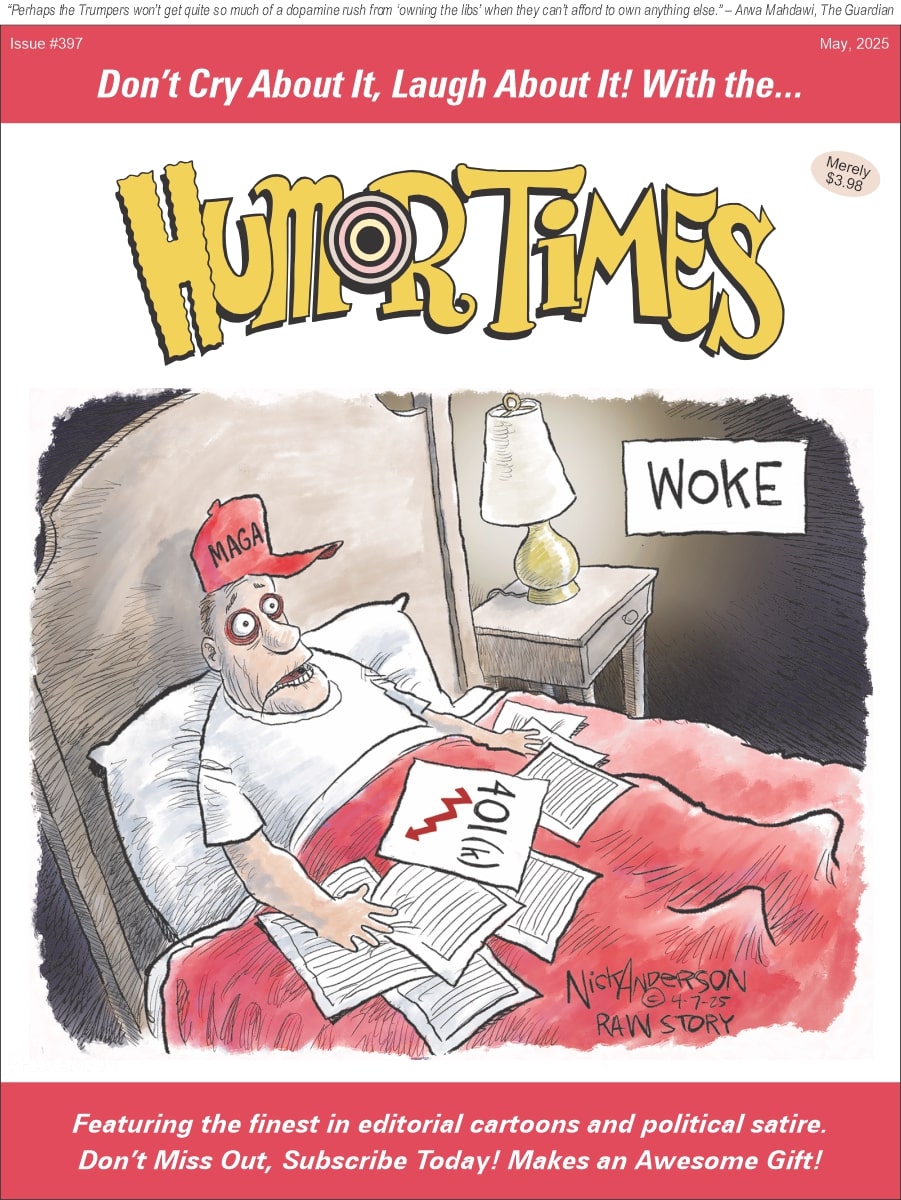 Here's a not-so-well kept secret many teachers have discovered: Editorial cartoons make great teaching aids! They are naturally entertaining, and therefore can be used in lesson plans to pique students' interest in many subjects, including current events, government, history, social studies, etc. And as every teacher knows, getting a student's attention is the first prerequisite for instructing them in any subject matter.
But getting them interested is just the first advantage of using editorial and political cartoons. They are also quite educating in their own right. Studying political cartoons will enable students to better understand the importance of current events. The cartoons may be used to help develop both factual knowledge and interpretive skills. Editorial cartoons can stimulate discussion and provide interesting writing topics — and what more can you ask for in a teacher's aid?
Analyzing editorial cartoons helps to strengthen analytical and other higher-order thinking skills. Cartoons are used to convey not just political, but also social issues. Editorial cartoons can be used in a variety of ways, and can be integrated into any lesson plan. And best of all, students respond quite well to cartoons.
The Humor Times as a teacher's aid in the classroom
We make it easy and affordable for schools to use our publication in the classroom. Since we want to keep costs down, we like to give individualized quotes to schools, as the postal rates vary depending on location. But in most cases, for a nine-month school year, we can ship up to 50 copies of each issue (once a month) anywhere in the U.S. for a $198.00 yearly fee. Or, you may choose to use just a few copies and pass them around, which can bring the rate down to around $70.00 or less, depending on number of copies and where you want them shipped. (See contact info below. All estimates based on postal rates as of March, 2012.)
For students, nothing compares to having a newspaper full of editorial cartoons in your hands. They can study it on lunch breaks, take it home and use them in homework assignments, and share it with their parents, involving them more in their education in the process. Give your students a leg up in their education, and a few laughs as a bonus – use the Humor Times.
And it won't hurt your effectiveness one bit that they'll think you're the coolest teacher around!
Ideas for lesson plans using editorial cartoons and the Humor Times as a teacher's aid:
Teaching with Political & Editorial Cartoons
LessonPlansPage.com
Editorial Cartoons in the Classroom
Editorial cartoonist Daryl Cagle's Teachers Guide
CONTACT: Questions? Suggestions? Please contact us.
"A cartoonist is a writer and artist, philosopher, and punster, cynic and community conscience. He seldom tells a joke, and often tells the truth, which is funnier. In addition, the cartoonist is more than a social critic who tries to amuse, infuriate, or educate. He is also, unconsciously, a reporter and historian."
– Thomas P. Ruff and Jennifer T. Nelson, Classroom Ready Activities for Teaching History and Geography in Grades 7-12. Needham, MA: Allyn and Bacon, 1999.
"Teachers know the value of a good laugh, but for many of us, adding humor to a lesson is tough… Even if they aren't knee slappers, editorial cartoons can stimulate discussion and provide interesting writing topics… Students respond quite well to cartoons.
– Melissa Kelly, educator and author of Everything Guide for New Teachers and other books on teaching.
"And there is no doubt that a serious political issue, when presented in the form of a telling cartoon, will be borne home to the minds of a far larger circle of average every-day men and women than it could ever be when discussed in the cold black and white of the editorial column."
– Arthur Bartlett Maurice and Frederic Taber Copper
"The power and efficacy of political cartoons has long been recognized; because of their readability and visual immediacy, they appeal to and are understood by a wide audience. They take the essence of a particular situation or character and further distill it into a single image, telling a clear story in way that is masterful, terse — and influential way. Collectively, they are 'in essence a vernacular record of the social and political history of a people.'"
– William Murrell
In perhaps the best known example of the force of the political cartoon, Thomas Nast's images in Harper's Weekly played an important role in the overthrow of the Tweed Ring in 1870s New York City. An exasperated Boss Tweed is recorded to have demanded of his henchmen, "Stop them damn pictures. I don't care so much what the papers write about me. My constituents can't read. But, damn it, they can see pictures."
The American political cartoon was born in Philadelphia over one hundred years prior to Nast's work, with Benjamin Franklin's famed Join or Die of 1974, showing a severed snake, its separate parts labeled as colonies.