Feedspot.com names us as one of the best political cartoon websites and blogs on the web
We wish to thank feedspot.com for the honor, and we pledge to continue working to be one of the best political cartoon websites around, and to continue bringing you some of the best political satire and general humor stories and cartoons!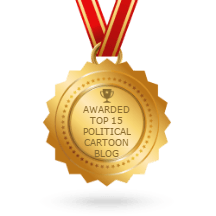 The honor coincides with our 300th issue, which also just happens to be our 26th Anniversary Issue! This very special issue can be ordered online, and included with a one-year subscription or 3-issue trial subscription, by specifying a "rush" order of the current issue. Or, for the single issue only, contact us.
Appropriately enough for a publication bent on tickling readers' funny bones, the Humor Times' original launch date – originally titled the Comic Press News – was on April Fools Day, 1991, just as the first gulf war was ending. The premier issue even included a multi-page "history" of that war. Any of the 300 past issues can also be ordered by contacting us, and vary in price, depending on their rarity.
The goal in 1991 was to "provide comic relief for people weary of scandals and politics-as-usual in the Sacramento area," as Editor James Israel put it. The publication's purpose is "to help balance out the gloom and doom with hard-hitting political humor and hilarious editorial cartoons," he said.
For people consuming the regular news through the standard outlets – newspapers, magazines, and their websites, or by watching talking heads hash over ginned-up issues on the tube – the magazine is a refreshing change: an irreverent, take-no-prisoners, no-holds-barred review of the news and politics.
Yes, the Humor Times is one "news" paper you can't take too seriously. Lampooning both Democrats and Republicans alike, as well as news pundits and celebrities, each hilarious political cartoon takes aim at the "elites," bringing them down to size. "The powerful become nothing more than victims of the incisive wit of editorial cartoonists and satirical columnists," says Israel, "and in this way it is an equalizer – and a much-needed one at that."
Besides the editorial cartoons, the publication features humor columns by the likes of veteran political comedian Will Durst, Jim Hightower and others, a "fake news" section ala The Onion, and – lest the magazine risk leaving readers feeling too jaded – many non-political cartoons, to help lighten up the mood.
The Humor Times' topical political humor may be hard-hitting, but it is clean, and suitable for all ages – at least, those old enough to be interested in what's happening on the world stage.
And according to Israel, that's a very large audience – and growing daily. "Political satire is huge right now," he says. "Look at the popularity of The Daily Show on Comedy Central, the proliferation of 'fake news' sites on the internet and the success of papers like The Onion."
See what we mean: order a subscription today. They make great gifts too!
The following two tabs change content below.

The
Humor Times
is the "World's funniest news source!" Sure, we like to inform our visitors, but in a playful sort of way. We believe political satire is one of the best ways to help folks let down their defenses and see things in a new light, as well as to help bring haughty leaders back down to earth. Plus, it's just plain fun! The
Humor Times magazine
(delivered to your door 12x/year) is a great way to enjoy this brand of humor, it makes a wonderful gift, and
SUBSCRIPTIONS
are very affordable!

Latest posts by Humor Times (see all)