Lola Versus — a film review by Gary Chew
I've already "seen" this movie…not a big or small screen, but in situations that developed right before my very eyes with people in my past, like just about every adult has. Lola Versus, at the Tower Theater, is about the common complexities of female/male  relationships; the scholarly pursuit of the subject known as the Dating-Game or Relational-Not-Same-Sex-Musical-Chairs. That's right…the field of study Woody Allen got a post-doctorate in…to go with his Bachelor's degree in Romanticism.
By the way, this movie isn't done by the Wood-Man. But it could have been. It has some of the Allen traits…two are: good entertainment; the other, a focus on young, single women.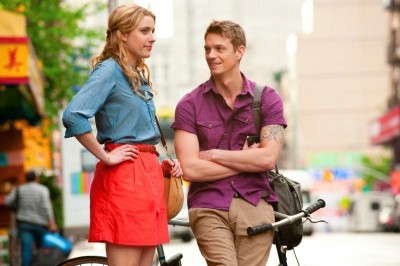 The "Annie Hall" character in this movie is Lola, of course. Not like the 1977 Annie, but more of an " Annie Hall" you'd expect in, say…2012. The original Annie would not have a tattoo. The 2012 model totally would.
Sacramento-native Greta Gerwig is this year's "Annie Hall." But I can't say whether Gerwig's got a tattoo or not. But to guess: I'd say she does. She also does a good job playing her young woman character convincingly; low-key, knowing, already somewhat jaded, and interesting in a downbeat sort of way. Gerwig has been convincing doing the character in earlier films.
"Lola's" credits don't indicate the film is based on actual events. They're about a 12-month break-up between the director of "Lola," Daryl Wein and the 2nd-banana gal in the film, Alice, played by Zoe Lister Jones. The couple, apparently back together, wrote the screenplay. Great therapy for young lovers, I guess.
The narrative is basic: the guy, Luke—played by Joel Kinnaman ("Safe House")—gets cold feet shortly before the vows are to be declared…then the couple splits; both working through subsequent issues mostly by being with other people. (Think: Woody Allen and all of his movies.)
Then, Luke wants to get back with Lola, but she's saying, :"Uhn, uhn, not so fast there, big fellow." And so on…with other partners for each, intervening.
Throw in brief moments with two, older, more familiar faces. Debra Winger plays Lola's mom and Bill Pullman is Lola's dad. Robin and Lenny seem to be about right as Lola's parents. The trio has a very open, non-authoritarian relationship. It's almost like Robin and Lenny are Lola's big sister and brother.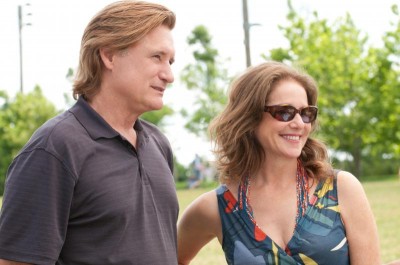 One of the better "Lola" scenes is between Gerwig and Pullman…interesting, pleasant father/daughter back and forth. And Winger is always good, even when she's a few names down the cast list. Good to see her once again.
Zoe Lister Jones is the spark plug in Lola Versus: randy and out-spoken for the higher registering laughs, while Gerwig brings humor to her character in a less intensive style; natural and fetching. Jones vibrates on some of the same frequencies as Julia Louis-Dreyfus did doing Elaine in "Seinfeld.
There's not much learning to be had from this script. How hackneyed can a screenplay get, I ask. But I found Lola Versus up-to-date breezy fun.
The opportunities continue expanding for Greta Gerwig. Greta is inching her way closer to the big time with a pretty good part in Woody Allen's upcoming film of romantic travelogues. She plays opposite that " Social Network" guy, Jesse Eisenberg in Allen's "To Rome with Love." It's soon to open in Sacramento.
Gerwig seems a shoo-in for the Allen lineage, but I'm ready for this Sacramento gal to show us her reach. A well-written, intense, dramatic film might do the trick for seeing how far she can stretch in front of the camera, which, I've heard "likes her." How about one of those higher-paying gigs that profits Gerwig to seem like someone other than the young woman she's played, so far, quite well in films?
It would give Sacramento movie buffs more to talk about.

Latest posts by Gary Chew
(see all)