'Ruby Sparks' — a film review by Gary Chew
Ruby Sparks might be the Little Miss Sunshine for summer 2012. Or it could be this season's date movie with cajones. Either way, that means you have a good movie to see. That's likely because both "Sparks" and "Miss Sunshine" were directed by Jonathan Dayton and Valerie Faris. Bravo.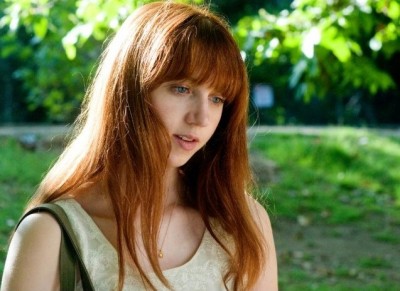 Locally, the film is playing at the Tower Theater, Land Park Drive and Broadway, Sacramento, and at UA Olympus Pointe 12, 520 N. Sunrise Ave., Roseville.
Written by a woman who is but 28, "Ruby" is a romantic fable created by Zoe Kazan, granddaughter of a man who has directed a film or two (Elia Kazan). With Zoe's heritage and what reads to me like a superb education, I think the gal has nailed it with this script, as well as playing the female lead opposite her real-life boyfriend, the very excellent Paul Dano (He played the Nietzsche freak who wants to be a jet pilot in "Little Miss Sunshine," LOL).
But back to the cajones. You may be ruminating on my meaning about those. Well, I'm always happy to explain myself…
"Ruby Sparks" is a mostly light, romantic fantasy set in a real modern-day world, with plenty of the neat and zippy ingredients one usually finds in date movies. "Sparks" slips into the niche that would also allow for "500 Days of Summer" (2009) with another Zoe, but spelled "Zooey" … Deschanel.
"Sparks" is low-key funny all the way, while maneuvering over to the dark side somewhere in the second-to-third act of the film. That noirish nudge gives Dano, as Calvin — a harried and reclusive, but successful novelist — the opportunity to do his weird thing. Dano is quite good at being weird.
(If you haven't seen Dano's grisly fight scene with Daniel Day-Lewis in the bowling alley sequence of "There Will Be Blood," you haven't observed what I've to come to call "acting 'Dano-weirdo.'")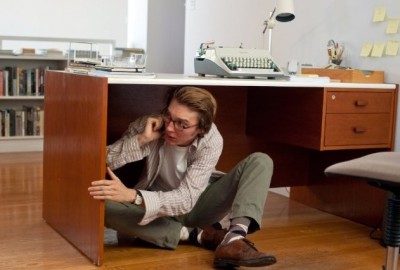 Locked in writer's block, Calvin takes home an "assignment" from his shrink (Elliot Gould) to write a reflective page on the issue at hand (on the couch) that the psychiatrist hopes will get his patient's muse back.
For the sake of brevity, Ruby is what comes of it all. She is created by Calvin's imagination at his old clunky typewriter — no word processor at his house. You can imagine yourself how surprised Calvin is when he happens to bump into Ruby, barefoot, in a long-sleeve shirt … and not much else … in his kitchen.
Freaking out is also some of what "Ruby Sparks" is about.
Even Calvin's crass brother, Harry (Chris Messina), freaks when he realizes Calvin actually has an alive female type on the premises, who has come from Cal's imaginings. Harry wants Cal to "type" Ruby into just what a real man would want for having a really neat girlfriend. Cal isn't a cad.
Cal does type on a sheet of paper, though, that Ruby speaks fluent French. Seconds later, there she is downstairs, talking like Juliette Binoche.
But Cal hasn't told Ruby that he's writing a story about her and how he's able to "tweak" her with his typewriter that sits on a desk in his upstairs study.
It is a swimmingly good relationship Cal and Ruby are having. She's even not spending any time at her apartment, and hangs out as Cal's spacious pad with pool along with Scotty, uh, Cal's doggie. He's named after a human being with the last name of Fitzgerald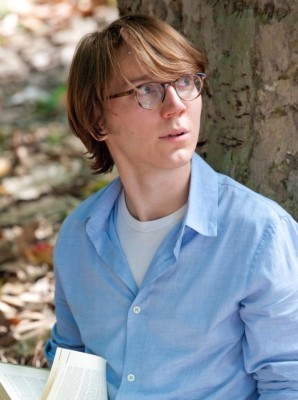 The first sign of trepidation shows when Ruby decides to make space for the pair by socializing some with others while Cal stays home. (Cal is sort of a stay-at-home kind of guy.) Ruby has also been hit on at a book soiree by Cal's literary associate, a roue named Langdon (Steve Coogan). These events put Cal back at his typewriter to tweak Ruby a bit more toward caring for him even more — just in case.
That doesn't turn out well. She is like a leach on him … clinging to him for dear life, due to the new tweak Cal, unbeknownst to Ruby, has "typed."
It's about here that one can see where such power over another person might go if someone starts to get only a little weird, or "Dano-weirdo," as this movie has it.
This goes even worse, and the darkness sets in to punch up the message Ms. Kazan wants to drop on your plate.
Early in the film, at his mother's urging, Cal takes Ruby for a family meetup at mom's very cool Big Sur digs. Mom, or "Gertrude" (Annette Bening), has a live-in lover, as well. Mort (Antonio Banderas) is his name. It's during this segment of the movie when "Ruby Sparks" sputters some, more like your typical date flick, and I caught myself hoping that things would pick up in a few frames. Free-spirited California beach folks could seem hackneyed to some people, I know.
Sure enough, the more creative writing creeps back into Kazan's script and takes off to a payoff and finish that … well … I don't want to tell you that part. Just know that you ought not leave the theater until after Ruby Sparks is tweaked no more. That's when the movie is over.
Fine music by Nick Urata, with good orchestrations and interesting use of the cello section, give "Ruby" some of her glitter. However, I'm still trying to figure out whether the word "sparks" in the title is a proper noun or a very vivid verb.

Latest posts by Gary Chew
(see all)