On September 13, 1916 a five-ton circus elephant was executed, hung from a 100-ton Clinchfield railroad crane car, in the little town of Erwin, Tennessee. 'Murderous Mary' had killed a man, and for that she had to die. Shooting her in the four soft spots on her head would be both difficult and dangerous. She wouldn't eat poison. And the town didn't have enough power to electrocute her.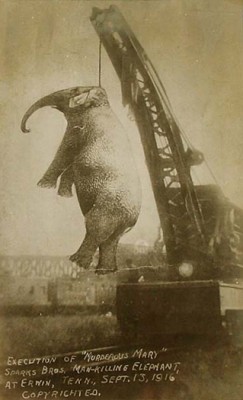 It all started when Sparks World Famous Shows hired Walter "Red" Eldridge as an assistant elephant trainer in spite of his total lack of experience. He had only been on the job one day when he made a fatal mistake. He had been using a pole with a hook on the end to guide the elephants to the watering ditch and he had been warned to be gentle with it and not to provoke the animals…
Suddenly, Mary "collided its trunk vice-like [sic] about [Eldridge's] body, lifted him 10 feet in the air, then dashed him with fury to the ground… and with the full force of her biestly [sic] fury is said to have sunk her giant tusks entirely through his body. The animal then trampled the dying form of Eldridge as if seeking a murderous triumph, then with a sudden… swing of her massive foot hurled his body into the crowd." —The Johnson City Staff, September 13, 1916
The circus owner knew they would have to put Mary down. He decided to use a railroad crane used for unloading lumber cars. Over 2,500 people turned out to watch the execution. They let Mary hang for 30 minutes, then lowered her into a grave dug with a steam shovel.
Be seeing you.
appalachianhistory
Latest posts by The Town Scryer
(see all)