In an attempt to court the youth vote, Obama will star in the full-length comedy "Commander In Steve"
It's all about capturing the youth vote, something the Obama campaign did easily in the last presidential election. This time, he has to try a little harder.
As this report from TheOnion.com shows, the president appears alongside Judd Apatow, James Franco and Seth Rogan:

Obama Starring In New Judd Apatow Comedy To Appeal To Younger Voters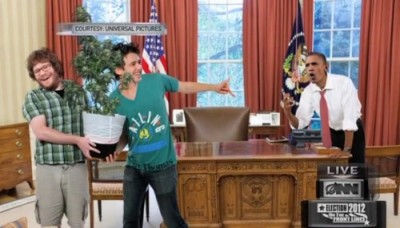 According to New America Media:
In 2008, presidential candidate Barack Obama ran a grassroots campaign based on the mantra of hope and change, generating a wave of support from his youth voters and those who plan to vote for him when they become eligible.
Unfortunately, in the 2012 election, the youth who are now eligible to vote for the first time, are less enthusiastic about making a difference with their vote.
"Obama's 2008 platform emphasized hope and change in an idealized way, and that was what attracted the attention of youth voters who wanted a change after eight years of Bush as president," Emily Moody, 19, of Wesleyan University, said. "But now that Obama has been in office for four years and people actually see what progress he has and hasn't made, the message of hope and change is a bit tarnished and voting may not seem as exciting to youth voters."
"This isn't going to be like the milestone election it was in 2008," noted Sean Lee, 19, of McGill University.
According to a report released by the Center for the American Electorate, youth voter turnout is predicted to drop significantly in the 2012 U.S. presidential election, due partly to the decline in political interest among young people. Voter turnout for the 2008 election was the highest since 1960, according to Fair Vote.
The following two tabs change content below.

The
Humor Times
is the "World's funniest news source!" Sure, we like to inform our visitors, but in a playful sort of way. We believe political satire is one of the best ways to help folks let down their defenses and see things in a new light, as well as to help bring haughty leaders back down to earth. Plus, it's just plain fun! The
Humor Times magazine
(delivered to your door 12x/year) is a great way to enjoy this brand of humor, it makes a wonderful gift, and
SUBSCRIPTIONS
are very affordable!

Latest posts by Humor Times (see all)