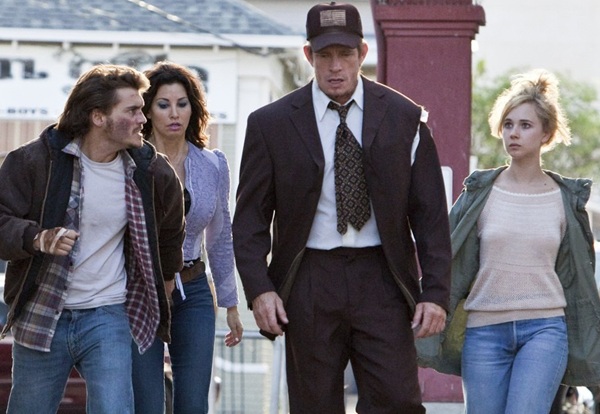 'Killer Joe' — a film review by Gary Chew
Something told me that William Friedkin's new film, Killer Joe, (now playing at the Crest Theatre on K Street in Sacramento) wouldn't begin with a cool saxophone reading of jazz great Benny Gholson's "Killer Joe." Two things tipped me.
The poster for the film shows a piece of deep-fried chicken in the shape of the State of Texas … and Matthew McConaughey has the lead.
McConaughey can't be beaten when he plays a plumb loco, tough-ass cowboy type…except for maybe Woody Harrelson.
Another thing I noticed before seeing "Killer Joe" was that it's listed as a comedic crime thriller.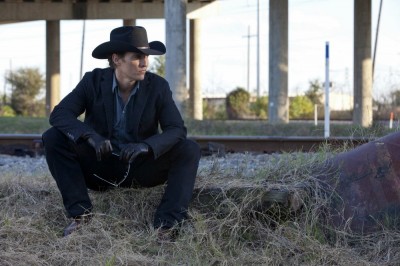 The film did thrill me from time to time…and I laughed as much watching it as any I've seen in quite a while. But I think if anyone has an attitude that takes seriously the American South Western mindset, which is best exemplified by what one conjures up visualizing a "typical" Texan, then "Killer Joe" might seem not quite as funny. If you know what I mean.
Most of all, that's why I laughed throughout this very dark, bloody, violent, sometimes quite explicit NC-17 film. "Killer Joe" comes from a play by the Pulitzer Prize winning, Tulsa native, Tracy Letts, who also wrote the screenplay for Friedkin ("The French Connection," 1971; "The Exorcist," 1973).
Having lived Oklahoma and Texas, Letts has his characters "pegged," as they say in that neck of the woods. And with McConaughey, a native of Uvalde, Texas, how could you go wrong with a movie that cracks and pops not unlike "No Country for Old Men," "Blood Simple"and the less recent "Red Rock West?"
Ten-gallon noir at its best. (By the way, Woody Harrelson is from Midland, Texas.)
Be ready for a short soliloquy given by McConaughey's "Joe" about how troubled it makes him that the Red River, which separates Oklahoma and Texas, is in the Sooner State all the way to the river's southern bank. That's how far some South Westerners take their pride … on either side of the Red River.
Joe is disturbed that he can't catch any Texas fish from those Red River waters, standing in the Lone Star State. Seriously.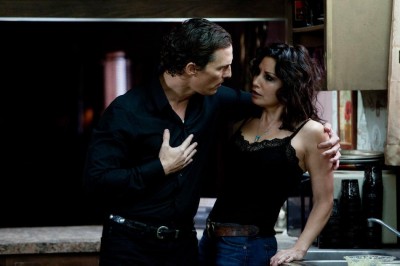 Emile Hirsch, as Chris Smith, is in deep pasture patties trying to get his nasty old mother done in so he can pay gambling bills. That would be the fifty G's insurance policy on her life. Joe is recommended as some one who could do away with mom quite efficiently. Oh yes, Joe Cooper is also a cowboy-like police officer in the Dallas Police Department. The story takes place in Dallas even though the movie was shot in New Orleans.
The Smith family is comprised of the father, Ansel (Thomas Haden Church), Chris' little and pretty sis, Dottie (Juno Temple), and Sharla (Gina Gershon), Ansel's more recent wife, who works at a pizza joint and frequently wanders from the matrimonial path she walks with Ansel. She also takes pictures, occasionally.
Every principal character in the film, except for Joe Cooper, could use a few more points on their IQ score card, I'd venture to say. Church, whom you'll remember fondly from "Sideways," is simply stellar as the dad. LOL. Gershon couldn't be better as the newer "mother" for the Smith family. Hirsch is solid and frenetic as a troubled and in trouble drug dealer. Temple convinces as the vulnerable apple of Joe's steely eye.
That attraction is supplanted by the fact Chris can't pay Joe upfront the 25-thousand dollars required to rub out mama. Joe is upset about not being paid ahead of time, but changes his tune when he decides to do the crime if Dottie is put up as a retainer, if you know what I mean.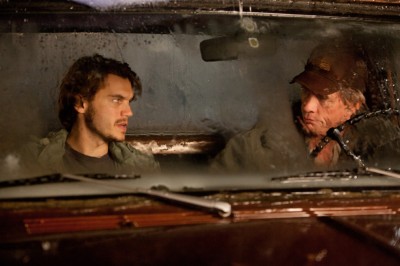 These people are really something!
Two things that also make "Killer Joe" something are, although a stage play in original form, Letts has molded the script to work exceedingly well as a motion picture even though there's a good deal of stationary banter that takes place in the Smith's trashy trailer home. Letts' dialogue won't let you down … or loose … for a moment.
One moment, a guffaw…the next: a grimace.
Exciting external action has been added, I assume, since those scenes couldn't have been played on an inside theater stage. Vehicular chases, alley way brutality and explosions. (I think I'd like to see "Killer Joe" on a stage, as well.)
As important: the actors in the film play it for "serious." At times I wondered if they had to stop and reset because someone in the cast or crew couldn't keep from breaking up any longer.
Then we have Matthew McConaughey's performance: smooth, cold, smart, a step ahead of everyone else in the narrative, and as polite, authoritarian and conservative as you might ever find in a character of the Great American Southwest; but also deeply criminal and vicious. He's is a scary, menacing hombre — even as you laugh.
For me, it's McConaughey's best go in a role. He's done some good ones, too.
Heads up for 2013. As this is being written, "August: Osage County," a more recent Tracy Letts play is being filmed a bit north of his hometown, some of the locations in Osage County, Oklahoma. "August: Osage County" is what won him the Pulitzer for Best 2008 Drama. Its cast fairly shouts with talent and fame: Meryl Streep, Julia Roberts, Ewan McGregor, Sam Shepard and Chris Cooper.

Latest posts by Gary Chew
(see all)