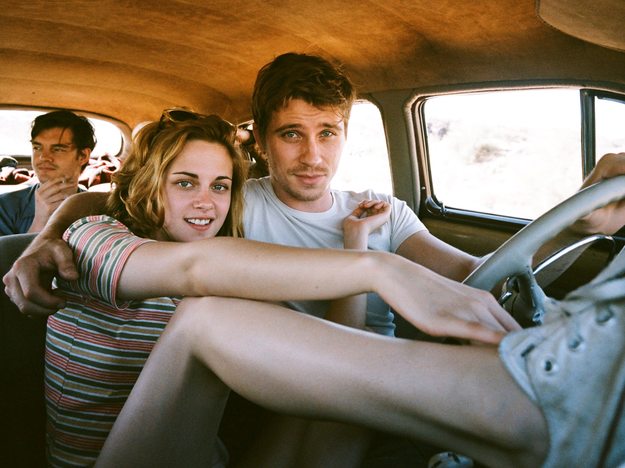 "On The Road" — a film review by Gary Chew
When Jack Kerouac began scribbling down things in a note pad that found their way into his novel, "On the Road," he had not a notion about whether or not what he was creating would make a good screenplay for those flyby moments in the late 1940s of his short life.
That's one reason I found "On the Road," the stalled and finally available film of the same name, to linger in my head well after seeing it. It's showing now at the Crest Theater.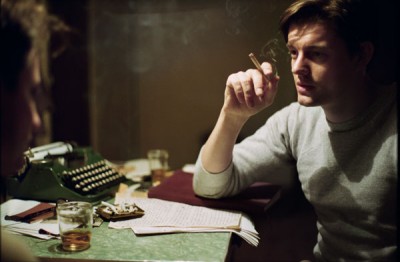 "On the Road" is another road movie from the Brazilian filmmaker, Walter Salles, who gave us that memorable two-wheeler travel picture called "Motorcycle Diaries." Salles' film of the Kerouac classic depressed me some, but how could it not? "On the Road" isn't a novel, or film, by which one escapes. It celebrates the moment … the fiber of living a life, or lives, of youthful Americans altering (in more ways than one) how those Bohemian sorts, living on this planet, pass their time.
Some of these men and women became rather well-known … for more than one reason. Sal is Kerouac, himself (Sam Riley). Dean is Neal Cassady (Garrett Hedlund). Marylou is really LuAnne Henderson (Kristen Stewart). Marylou or LuAnne was Dean's (or Neal's) first wife.
To be less confusing: a couple of other famous people that show up in "Travels with Jack" are Old Bull Lee or, actually, William S. Burroughs (Viggo Mortenssen) and Carlo Marx, who in truth, is Alan Ginsberg (Tom Sturridge). Not so famous is the part played by Kirsten Dunst as Dean's second wife, Carol Cassady. The novel and film have her as Camille.
It's kind of a stretch that much of all this "being on the road-thing" began because of Marcel Proust, but that's what's messaged in Kerouac's writing. See Proust's: Àl la recherche du temps perdu ("In Search of Lost Time.")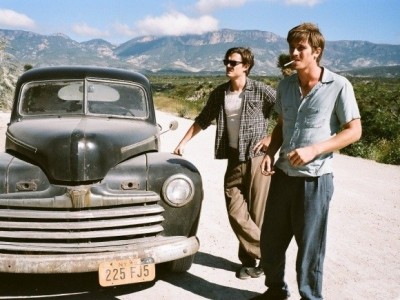 So far, this suggests that the film, "On the Road," takes us into the recent cinematic territory of Paul Thomas Anderson's "The Master." In the same genre, Anderson transported some movie buffs with his earlier "There Will Be Blood."
To put a finer point on it: a movie like "Trance" (about to open) is — let's say — an orange. A film like "On the Road" or "The Master" or "There Will Be Blood" is APPLES.
I like apples. I like oranges. But each has a much different taste from the other. Hello.
And yes, arguing "taste" is sort of, uh … not so tasteless as it is a waste of time.
"On the Road" is a very good movie. I'm glad Francis Ford Coppola acquired the rights to it some decades back. Under his sensitive artistry, we've got … pretty much … what Kerouac gave us in the book. And don't forget, Kerouac wasn't writing a screenplay in the back of that flatbed truck on its way to Denver when Sal first hits the road to party with Dean and all those other restless Post WWII people.
Kristen Stewart! Wow… really good. Really. She, Mortensen and Amy Adams are the only quickly recognizable faces in the cast. Look out though, Steve Buscemi has a curious and very humorous cameo. And "Mad Men" freaks will quickly notice that phenomenal cable series' "Peggy Olson" (Elizabeth Moss), too. But Sam Riley and Garrett Hedlund are just barely recognizable. They have only slight facial gravitas which doesn't invade the important characters of Sal and Dean. These dudes are good, too.
I don't think I could have handled being in the presence of guys like Sal and, particularly, Dean, for much time, but they are certainly interesting to watch and then ponder as they rush to meet living their lives head-on.
So maybe "On the Road" is an escape for people like me. But I don't want to fuss about it.
After "On the Road" one might feel that, according to Kerouac, the late Forties and the early Fifties did some 'roaring' of their own.
The Crest Theater preceded the Saturday matinee of "On the Road," with a lowering, then the raising of the big beautiful curtain there in tribute to the late Roger Ebert. Such class. It was a thumbs-up from all who were there.

Latest posts by Gary Chew
(see all)