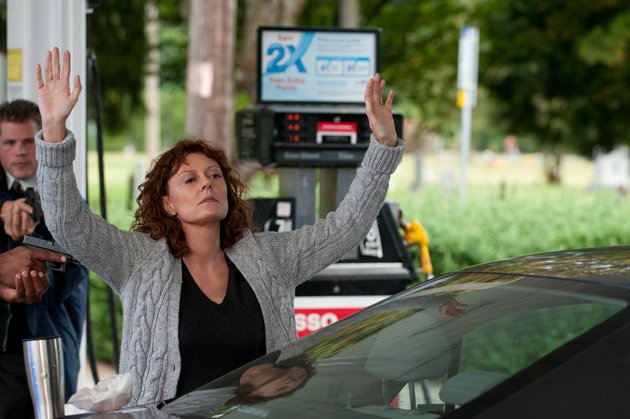 "The Company You Keep" — a film review by Gary Chew
Robert Redford's new movie, "The Company You Keep," needs a larger plate. It's more than dinner for Thanksgiving and Christmas, combined. Good things are on the plate but, some intended for the film, spill, in considerable measure, onto the tablecloth.
The main course cast is a gourmet repast that would waft an aromatic varietal through any movie house. Director Redford plays an anonymous, liberal attorney in upstate New York who used be a Weather Underground guy of the early 70s. Susan Sarandon has the role of Sharon, a middle-aged wife and mother in Vermont, who was, back then, a compatriot of Redford's character. He was Nick then; in this century Nick goes as Jim Grant, a "Clark Kent" kind of widower with a bright, adorable eleven year old daughter (Jackie Evancho). Mimi, played by Julie Christie, appears mostly in the third act as another Left-leaning lady who was Nick's lover.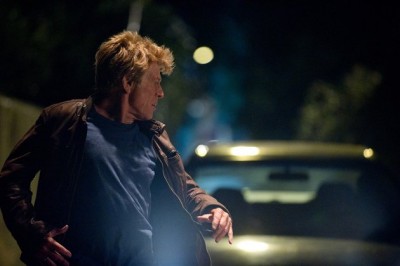 No, Jane Fonda isn't in this one. But plenty more are in it who heft, maybe, as much gravitas as Bob, and Susan, and Julie …
Like Shia LaBeouf ("Transformers," "Wall St: Money Never Sleeps"), a "Woodward 'n' Bernstein" kind of newspaper reporter out of Albany they call Ben. The brash Ben shoves the narrative around a lot because he's so damned smart and perceptive, yet unsure of where his head and heart might be leading him, if at all. Dustin Hoffman doesn't need to take notes, though.
Another newbie, Anna Kendrick ("Up In The Air"), is Diana, an old girl friend of Ben's from college. She now works — and ain't it handy(?) — for the FBI. Continuing in a younger demographic kind of way: the newly-arrived Brit Marling ("Another Earth," "The Sound of My Voice,""Abitrage") is Rebecca, the savvy, adopted daughter of a retired police official who was involved with the political chaos of his Northeastern U.S. town during Nam. The fine Irish actor, Brendan Gleeson ("In Bruges") does the role.
Going forward, the stalwart cast roster also has Nick Nolte, as Donal, a crusty "old rad" chum of Redford's "Nick." Mimi's current Big Sur live-in "chum" is Mac, played by Sacramento-native Sam Elliot ("The Big Lebowski"). And if that weren't enough: Richard Jenkins ("Six Feet Under," "The Visitor") is a reluctant, present day college prof, who, with a clearer conscience then, kept company with Nick, Mimi, Sharon and other members of this anti-war gang of heavy-handed liberals with too much cause for their own good.
Thrown in for good measure, as if any more were needed, you'll find Stanley Tucci ("The Lovely Bones," "Margin Call," "The Hunger Games – Catching Fire") as young Ben's newspaper boss; Chris Cooper ("Lone Star," "American Beauty," "Capote") does Nick's/Jim's younger brother; and Terrence Howard ("Crash" by Paul Haggis) as the Main Man, FBI Agent called Cornelius.
Portions of this motion picture meal cooked up by "The Company You Keep," clinging best to the plate, are 2 scenes, in particular. One has Sarandon and LeBeouf locked in their marvelous lines for Ben's jailhouse interview with the incarcerated Sharon about her being party to a radical bank heist in 1970s Michigan that left a bank guard dead. Ms. Sarandon is more than anyone could handle with the lines she delivers. Listen to her.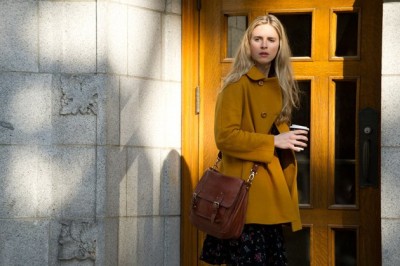 The other scene also has LaBeouf … this time with Tucci. Heavy words between the newspaper boss and his high-energy, nerd-like reporter smelling a big story, feel so real as they're tossed back and forth across the editor's desk. I've never seen Tucci in anything less than a pretty darned good movie.
In intermittent sequences with Redford — playing his dad character — and young Miss Evancho, one can revel in the enclosing warmth of father/daughter love which could be the dessert course. (It has a plate or dish all its own, you know.) Not only sweet but pleasant, Redford and Evancho look like they're using personal emotions for their on-screen efforts.
Too bad some of the morsels slipping off the larger dinnerware include motivations of some significant characters. As I sat watching, I had the feeling that, if I'd read the book first, I would have been able to understand some of the "Whys" as well as the "Well, What About This-ses" buzzing through my head. I've always thought that that was the job a script adapter did; crafting whatever the novelist previously put down for clarity's sake that's been defined or explained by language alone. Neil Gordon wrote the book. Lem Dobbs did the adaptation.
There's something in my mind about this picture wanting to avoid seeming to be too sentimental, or sappy, that has inadvertently edged-out scenes that would be clarifying and uses the movie's precious running-time to re-emphasize other aspects of sentimentality that are made obvious early on.
Redford's "The Company You Keep" is many things. A remember-when, police procedural, medium-intensive thriller with a strong resonance for understanding family; less familial types at long last coming to a finer mellowing; motivations of U.S. anti-war activists in the 60s and 70s and their loyalty to the cause and each other, as well as how they now feel about what went down; then but of course: old lovers and their baggage, and the possibilities for younger lovers, maybe … and how much of a larger load they may take on — according to the company they keep.
I don't believe Robert Redford's new movie can miss.

Latest posts by Gary Chew
(see all)