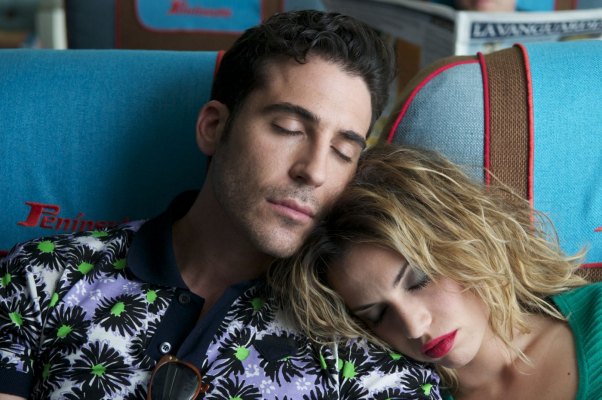 "I'm So Excited" — a film review by Gary Chew
A new Spanish-language film comedy just out has everything in it … except Javier Bardem. Even Javier's spouse, Penelope Cruz, is in it. Then there's Antonio Banderas. He's in it, too. But what makes "I'm So Excited" an especial movie en espanol is … it's written and directed by Pedro Almodovar. You know, the "Volver" guy.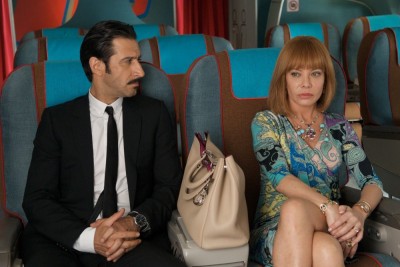 Since his latest picture is comedy, anyone who's seen "Volver" may expect "I'm So Excited" to be more palatable than, say, "The Skin I Live In," or an earlier Almodovar piece with the memorable title, "Tie Me Up! Tie Me Down!"
Well, you'd be wrong.
Pedro can be as overwhelming and over-the-top with stuff for fun as he is with stuff for not so fun. Here's the dish on "X-cited":
Jetliner has malfunctioning landing gear. Craft circles, awaiting a runway to open for an emergency landing. Situation is played for what you expect when you see a TV sitcom … but without any Seinfeld or Larry David guy in it.
The three airline stewards are gay. The pilot is bisexual. The co-pilot is straight … probably. The few passengers in first class are, in their own ways, as eccentric as the actors playing the three precious stewards–except for the newlywed guy and gal on board. (How boring. Right, Pedro?)
None of the first-class passengers are gay, by the way. A segment on the personal lives of each of the eccentric folks in first class is examined by the script, while the jet circles in Spanish airspace, having its scheduled flight to Mexico City scratched, and then moves on toward the end of the film, where the audience waits to find if the landing at the La Mancha (Almodovar's actual birthplace) airport will be successful for this wide array of airborne characters–yes, characters–or not.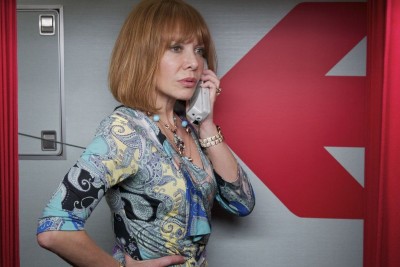 Almodovar, a man of and for the people, handily (with the script) puts everyone in coach (ordinary travelers) to sleep. The crew has stealthily tranquillized those passengers so they won't be worrying about the gear problem, just below, on the massive airliner in which they're hurtling through the air.
What a marvelous sitcom. I'd watch it every week … if I had a television receiver. As a feature film, however, "I'm So Excited" is low on fuel. "X-cited's" comic rhythm suggests that, if the film really "flies," there must be appropriate, timely, punchy scene closers … strung across a feature-length arc.
Oh, don't worry; there are lots of them, but they're inconsistent … those brief moments when one feels things hovering or stalled; much like when a standup comic doesn't get a laugh after a line punched out to the crowd for mirth's sake. Not all such spans of time in this movie have been removed.
I would suggest, though, that the trailer for "I'm So Excited" be given an award of some kind. Really. Moreover, the Spanish actors playing the stewards should embellish their trio act–the humane effort they do on the plane to take the first-class passengers' minds off the situation–and take it on the road to Vegas and other clubby venues.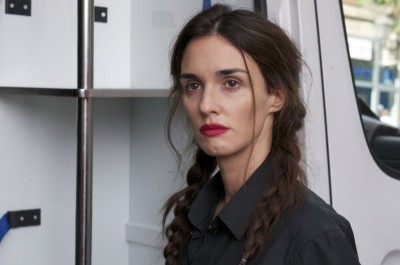 The guys could do the online promotion of a U.S. tour with the video of their "I'm So Excited" scene–remember MTV?–right after the Pointers Sisters' video of that great and spirited song so many remember.
Now, that's entertainment.
But don't get me wrong. The movie does entertain, mostly for its Amodovarian, in-your-face bent. It's not unlike stretched-out "Saturday Night Live" shtick with swirls of soap opera and superbly drawn characters satisfyingly done by seasoned Spanish and Mexican actors. The music is just about perfect for underscoring the emotions one ought to feel watching the picture.
"I'm So Excited" is bawdily funny, and quite forward in the vernacular department with frequent anatomical-plumbing chit-chat among the male crew members, but–without doubt–a laugh riot in many places. Particularly at the time and place that I saw it.
P.S. Cruz and Banderas have cameos.

Latest posts by Gary Chew
(see all)