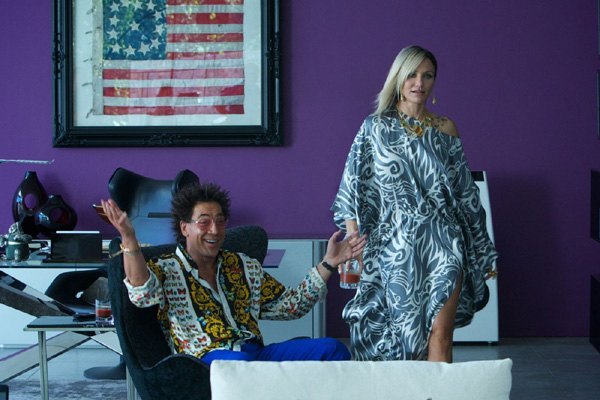 "The Counselor" — a film review by Gary Chew
The best-selling novelist Cormac McCarthy has never been known to take any prisoners in anything he's written whether his characters are on the page or movie screen. He takes none in his latest piece — a screenplay titled "The Counselor."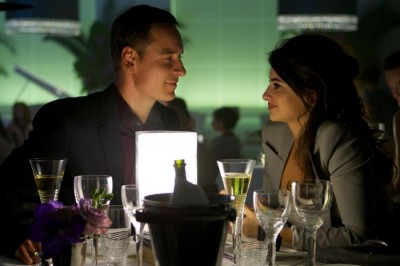 Cutting to the chase, there's a scene late in the picture that has Michael Fassbender on the phone with a Latino gentlemen played by Reuben Blades. Perk up your ears to what Blades' character advises Fassbender's. In poetic terms, Blades recites McCarthy's lines about how the world can drastically change when a person makes the decision to gain great wealth by taking great risk that's partially motivated because of the risk taker's love for a beautiful woman.
Fassbender is the counselor, a successful lawyer deeply involved with Laura (Penelope Cruz). Laura may be the only innocent character in the script. The couple is in love and soon to be married after the counselor buys Laura a beautiful diamond ring.
At the about the same time, the counselor hero consummates his first drug smuggling deal with a wealthy trafficker called Reiner (Javier Bardem). Reiner's opulent lifestyle is considerably more pronounced than the successful counselor's. The deal requires transport of millions of dollars worth of an illegal substance out of Mexico to Chicago.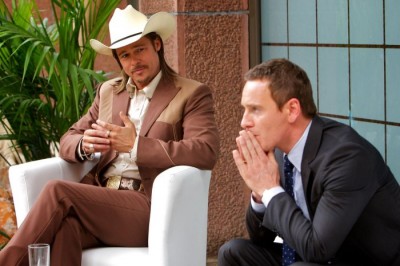 Reiner's female companion is Malkina (Cameron Diaz). Although Reiner is a clever, successful fellow, he seems to be in awe of the matured beauty, acumen and unadulterated organizational skill that Malkina displays. In quite a juicy part for Diaz, two scenes of hers may turn out memorable. The first shows Diaz in a Catholic confessional attempting to give her own kind of confession to a flabbergasted priest. The other scene is difficult to write about due to its content but if you see the movie, you'll know what it is. It will likely be more memorable than the confessional scene.
Prior to the counselor's decision to jump into "deeper water," he's advised by another well-off man who knows what can go down when one starts playing on turf that's also traveled by the Mexican drug cartel. If a name for such a game were ever given, it could easily be dubbed, "No Prisoners Taken, Old Or Young."
Westray (Brad Pitt) is the cocky, uptown cowboy who talks in a cautionary manner to the counselor about whether or not to go on with the deal. Much like Reiner, Westray also has a strong taste for sexy women while doing his shady business. Westray looks less successful than Reiner, but that doesn't mean he is.
Consequences for the counselor's moving forward on the big deal prove to be as fateful — let's say — as Westray predicts they might be. The consequences ring with dreadful irony.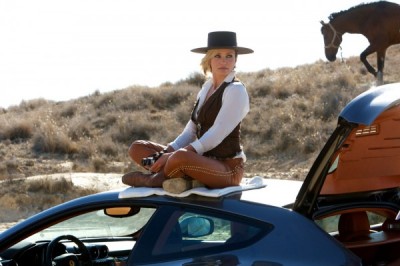 Ridley "Black Hawk Down" Scott is the director. That says a lot. And his backup cast brings some neat surprises. Dean Norris, Hank the DEA agent/brother-in-law in "Breaking Bad," appears as the buyer for the big drug haul up to Lake Michigan where he has brief back and forth with an uncredited John Leguizamo. Rosie Perez has a cameo role as an imprisoned mother who's an old client of the counselor's. Her son's in trouble on the outside, and she asks the counselor for help. Bruno Ganz does an early scene with the counselor as a diamond expert who has just the right, expensive stone for Laura's lovely left hand.
"The Counselor" is told with little informational detail, as was "No Country For Old Men." McCarthy expects you to do your own work apprehending the tale. Stark differences are portrayed between the affluent and the needy. At times, characters talk to each other in a sort of metaphor about what they're doing and what's going on. Then there are moments when what they're discussing is mixed with amusing and intimate minutiae that allows for minor comic releases in a film that has no intention to merely amuse when clearly McCarthy wants the pure innocents of the world to know that there is darkness, and once choosing to be in it, there's no escape. It's one of the best and smartest movies I've seen so far this year.

Latest posts by Gary Chew
(see all)