"Breathe In" — a film review by Gary Chew
A young Brit exchange student named Sophie (Felicity Jones) arrives in upstate New York. She's a guest of the Reynolds family. Keith (Guy Pierce) is the husband/father. He's a cellist, a high school music teacher and married to Megan (Amy Ryan). They have a daughter a few months older the Sophie. Her name is Lauren (MacKenzie Davis).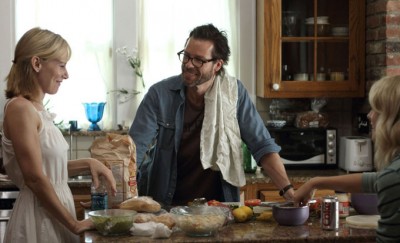 With understatement and no haste, "Breathe In" shows that Sophie is a 17-year-old of considerable maturity and substance. She blows Keith's mind as she plays the hell out of a Robert Schumann piano piece as her introduction just going into one of Mr. Reynolds' music classes.
One can infer that Guy Pearce's eyes (in character) covertly reflect that Sophie is better at the keyboard than Keith thinks he is at the cello. He's vying for a vacant chair in an orchestra in New York City which is not far from the town where the Reynolds' live. Keith would like to be a full time musician as he was before he and Megan married after discovering her pregnancy with Lauren. Having Sophie around the house, and with her bunking in his daughter room has rung his chime about how it used to be when single.
"Breathe In" is not a trashy movie. If it were, it would probably be more marketable. I like it for that reason and for others.
Young director Drake Doremus has got something going, it seems, with how he brought off this picture. Let me explain:
Doremus wrote an outline much like a short story. With it there's back story and where emotional cadences come. There's little dialogue for the actors. Each scene is shot repeatedly. Sometimes the initial take might run a quarter hour; but the finished keeper-scene could run no more than a couple of minutes. The regimen wears down the actors as they sort of edit themselves and the film itself.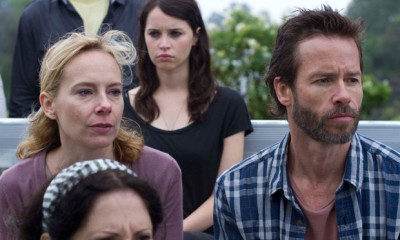 After several takes, the players become more unaware of the camera, claims Doremus. That draws them into being just … in the part. Doremus believes actor-focus is what's important and living in the moment, and that through repetition of extemporaneous dialogue, everything is put just there … in the moment.
This reminds me of the memorable line in "Mulholland Drive" director David Lynch wrote for the movie audition scene that depicts Naomi Watts auditioning for a movie part with Chad Everett. The actor who Lynch has cast to play the director in the picture says to the Watts and Everett characters just before he calls for action is "Don't make it real … until it's real."
I've always felt that scene in "Mulholland Drive" is helpful putting the person watching the movie in the moment too, especially when Watts and Everett act their way out of the "scene" characters – returning to the "real" ones they play in Lynch's creation.
First rate performances fill "Breathe In," especially Pearce's. MacKenzie Davis, in particular, should receive good notices even though it's her first film. Her part as Lauren is small, but when she's in a scene, Davis takes up as much "room" as any of the more seasoned cast members. She ought to be in more pictures … sounds like a song title — almost.
Felicity Jones, also in Doremus' "Like Crazy," (2011) can be seen in the new "Spider-Man" movie.


Latest posts by Gary Chew
(see all)