"Horrible Bosses 2" – a film review by Gary Chew
Upon leaving the cinema, I told the studio rep for the movie screening that I had a Ph. D in horrible bosses. But going in, I thought the word "horrible" meant how bosses treat employees. I was wrong about that part of the title of this totally outrageous Sean Anders' comedy.
Nick (Jason Bateman), Kurt (Jason Sudeikis) and Dale (Charlie Day) are three guys out to make lots of money starting up their own business. Seems these dudes have invented a contraption for the bath they call "Shower Buddy." Shortly after one steps into the stall with Shower Buddy, suds are automatically laced with the warm water. One showering doesn't have to soap one's body. Oh my God, could it be another electric light bulb, you think? The scene depicting how the Shower Buddy works will long linger in your mind's eye.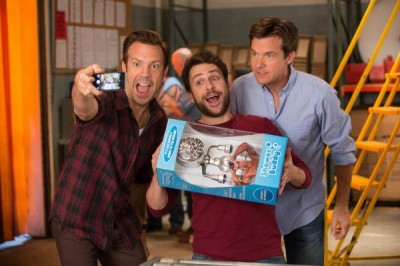 Setting up the deal requires these goofy guys to go through a large company run by Rex (Chris Pine) and Rex's wiser and more crooked businessman/father Bert (Christoph Waltz). Bert, with the come on pulled by Rex, scams Nick, Kurt and Dale big time. The naïve trio is slogging onto bankruptcy already… and they've not moved one unit of their Shower Buddies. The scene that depicts how the novel shower operates will linger long in your mind's eye.
The rest of Horrible Bosses 2 takes you through the mess of how the guys might get the money back, and how they should or shouldn't get revenge on Rex and Bert.
Along the way in their attempt to kidnap Rex for a big ransom out of Bert's really big bank account, Nick, Kurt and Dale happen onto a lady dentist named Julia (Jennifer Aniston), who's also a sex addict with bi-sexual predilections. It's mostly with men she keeps score, but women prove to be, as time goes on, part of Julia's regimen. You should also know that Julia leads a sex addicts' anonymous group.
Oh yes, I also asked the studio rep, on leaving, "How could any man not like a movie in which Jennifer Aniston has been cast as a sex addict?" He nodded in a knowing way, but spoke not a word.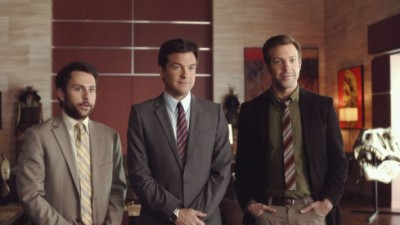 The three horrible wannabe bosses are mentored in their scurrilous efforts by an African-American man they always meet in a bar. He's called "MF" Jones. That's all I can say in print about that character's name, but I have been authorized to advise you that he is played well by a guy named Jamie Foxx. Ya know what I'm sayin'?
A really nice side order of casting is a crook played by Kevin Spacey. I always try to make it to any film that Spacey has OK'd for his truly illustrious career track. Alas, it's a cameo. But Kev, as an imprisoned dude named Dave who knows all the tricks of the trade of criminality, scores mightily — as if he had been present for nearly every scene of this totally wacko movie.
Much of the banter between Batemen, Sudeikis and Day sounds as though it's improvised. My only problem with their nutty chit-chat is that they talk over each other like we do in everyday conversation. I know I missed some funny stuff.
These horrible bosses are horrible at setting up a business and running it, but treat the employees they ultimately hire reasonably well.
Oh, and one more thing: Horrible Bosses 2 isn't a movie that you ought to see with your mother unless, unfortunately, she's deaf and can't read lips. Ya know what I'm sayin'?

Latest posts by Gary Chew
(see all)