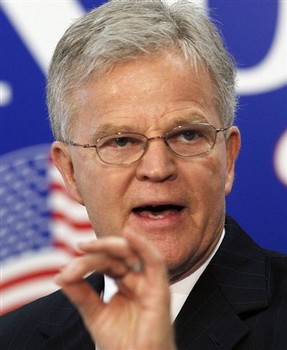 Big News! A GOP candidate for president who is not a complete wacko that denies science and common sense has been located!
Buddy Roemer (a one-time Democrat), as governor in 1991, vetoed a GOP proposal that would have banned all abortions, except in the case of rape or incest, and signed a law legalizing medicinal marijuana in Louisiana. Faced with a $700 million deficit, he proposed a dramatic overhaul of the state tax code — including increasing the sales tax.
No lefty, though, he supported chain gangs and presided over the execution of a mentally handicapped man who had murdered a state trooper at the age of 17.
In a shocking interview (if you're used to listening to other Republican candidates) on the Daily Show, he said big money has corrupted our political system:
"You can't tackle [all the other problems] without tackling the first problem. Money in politics. It is corrupt. It is institutionally corrupt. They spend their time getting big checks from big special interests. It's the special interests, Jon, who write the tax code… It hurts jobs, we give them away. They've been stolen by unfair trade, and nobody does anything. You know why? Corporations have never made more money than they are right now. They wrote the tax code, and they really don't give a damn about the rest of America."
Imagine that. A candidate for president who openly discusses how corrupt our election process has become. We haven't had that since… Ralph Nader.