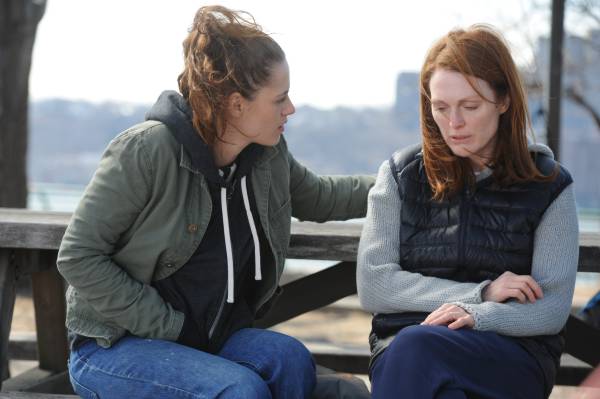 "Still Alice" – a film review by Gary Chew
Kristen Stewart (Lydia)/DAUGHTER: What's it like? What does it actually feel like?
Julianne Moore (Alice)/MOTHER: Oh, I have my good days when I feel and act like I'm almost a normal person. The bad days … I can't find myself. I've always been so defined by my intellect, my language, my articulation … now … sometimes I can see the words hanging in front of me, and I can't reach them. I don't know who I am … and don't know what I'm gonna lose next.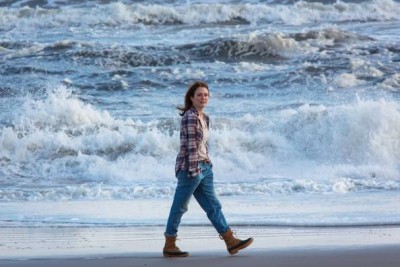 LYDIA: That's horrible. (said with transparent honesty)
ALICE: Thanks for asking. (said without cynicism)
Although this exchange of dialogue in the film Still Alice seems almost perfunctory and cool, it signals that better understanding is creeping into a mother/daughter relationship.
Writing a review about Still Alice isn't easy. On the one hand it's only fair to say this is a fine picture with considerable import. But on the other hand it's only fair to say that the movie, after taking its emotional toll for watching it, works on a viewer much as a documentary would about Alzheimer's and how this malady drains a brilliant, active woman's intellect and sensibility while deeply affecting a good and caring family with a loving, successful husband/father (Alec Baldwin), two daughters (Stewart and Kate Bosworth) and a son (Hunter Parrish).
Still Alice is somewhat like Away from Her, the 2006 film directed by Sarah Polley. The primary difference is that Away from Her is a story of the onset of dementia that strikes an older man's older wife — a couple best defined as still lovers. Still Alice, which was directed by Richard Glatzer and Wash Westmoreland, presents more solidly as a tragedy that affects a younger, upper-middle class, highly educated family with strong ties within its core as well as its extended reach.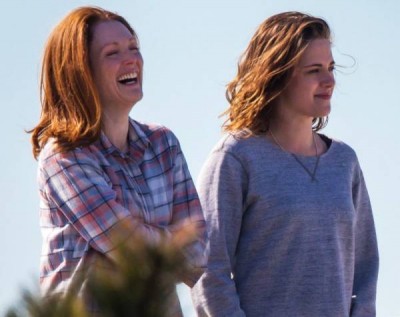 Lisa Genova, who taught neuroanatomy at Harvard, published Still Alice, her first novel, in 2007. She gives genuine scientific grounding for the film. Yet the movie isn't didactic or opaque as Alice begins to lose her faculties. Genova received a Ph.D in neuroscience from Harvard in 1998. Her book — translated into 20 languages — is a best seller.
Julianne Moore truly is one of my favorite female film actors. She's done an amazing array of roles — many quite risky. I can't think of one I've not been enthusiastic about. Moore is a contender for a 2015 Best Performance Oscar. I argued in a 2009 review for her to get the Best Supporting Oscar for her role in A Single Man.
This review opens with film dialogue between Alice and Lydia. If you see Still Alice, be receptive to the speech near the end given by Stewart as Lydia to Moore as Alice. Listen closely to what the daughter says to her mother.
Despite Alice wanting Lydia to go to university and Lydia wishing, instead, to pursue a career as a stage actor, it's Lydia who most realistically fastens to Alice as she begins to slip and lose her wonderful sense of responsibility and all the valuable knowledge and experience locked in her mind — at the tender age of 50. Really smart people are not immune to Alzheimer's might be a primary take away on seeing Still Alice.

Latest posts by Gary Chew
(see all)