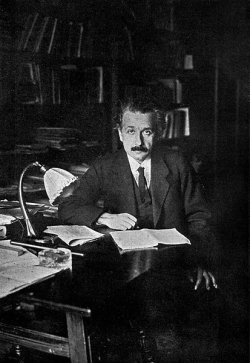 In October 1915, at the height of World War I, the Berlin Goethe Society invited Albert Einstein to submit an essay for its journal. He did so but warned that he would not be surprised if they chose not to use his submission. The society reviewed it with some dismay and asked Einstein to strike this passage:
"When I look into the home of a good, normal citizen I see a softly lighted room. In one corner stands a well-cared-for shrine, of which the man of the house is very proud and to which the attention of every visitor is drawn in a loud voice. On it, in large letters, the word 'Patriotism' is inscribed.
"However, opening this shrine is normally forbidden. Yes, even the man of the house knows hardly, or not at all, that this shrine holds the moral requisites of animal hatred and mass murder that, in case of war, he obediently takes out for his service.
"This shrine, dear reader, you will not find in my room, and I would rejoice if you came to the viewpoint that in that corner of your room a piano or a small bookcase would be more appropriate than such a piece of furniture which you find tolerable because, from your youth, you have become used to it."
Einstein eventually agreed to remove the passage, but his own views were steadfast. The state, he wrote, "does not play the least role in my spiritual life; I regard allegiance to a government as a business matter, somewhat like the relationship with a life insurance company."
Latest posts by The Town Scryer
(see all)