Encourage bicycling: Please help spread the word about this week-long event.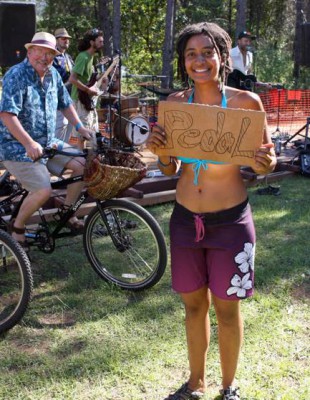 The multi-day, multi-location Sacramento Rolling Bicycle Music Festival features a bike-powered sound system and is being held during the first week of May (May 1-8) in Sacramento. Think of it as a "Pedal-palooza" — a live music/low-carbon-footprint event to celebrate and encourage bicycling.
Below is the full schedule of events. It is also available on the official Facebook event page (please join and share!), and can be accessed via the Google Calendar listing. (The same calendar can be accessed in iCal format, to import into your own.)
Part of an ongoing venture over the last several years, this rolling festival is organized by the band Clan Dyken (based in Calaveras County), local bicycling enthusiasts and the Humor Times. Clan Dyken has staged versions of the event in many locations all over the west coast, and the Sacramento edition will lead in to the equally low-carbon-footprint Whole Earth Festival in Davis.
The festival features an enthusiastic cast of musicians and volunteers who bike all their musical gear from one location to another, setting up and playing for a while at each stop. The sound system is powered by bicycles, as people peddle during the show to keep the good vibes going.
Bear Dyken, the leader of Clan Dyken, says, "It is inspiring and amazing to see how the crowd grows, as we go from location to location. People see the fun we're having, and want to join in!"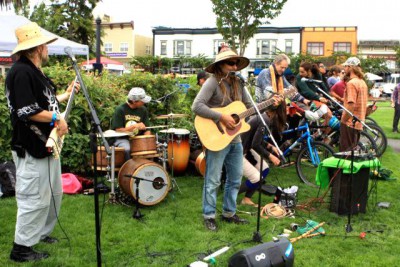 Mr. Dyken says the group plans to create short videos of each stop, featuring host businesses and other locations, along the lines of this one posted on their website.
The Sacramento-based Humor Times monthly magazine, along with several bike shops, is co-sponsoring the event.
The public is encouraged to participate in any way they like, whether by bicycling to each show, walking or whatever — just get there!
The (mostly) complete schedule of events:
Friday, May 1st, 7pm: Marco's Cafe, Coloma Road, Lotus. (The festival will roll into Sac after this show.)
Friday, May 1st, 7:30pm: Bike Party. While not officially part of the bikefest, this is a fun monthly event, and we encourage festivalers to participate.
Saturday, May 2nd, 1pm-7pm: Picnic in the Park, McClatchy Park, Sacramento. While not officially part of the bikefest, some of our musicians will be in the show and will promote the bikefest's upcoming events.
Sunday, May 3rd, 4pm-8pm: Block party for the festival, the first Sac show of the fest with live bicycle-powered music. It's in Oak Park on 33rd St between 3rd & 4th Avenues.
Monday, May 4th, 5pm-6pm or so: Mike's Bikes of Sacramento, 1411 I Street, Sacramento.
Tuesday, May 5th, Noon to 3pm: A full bike-powered show on the Capitol grounds, near 15th & N Sts. Stop by on your lunch hour!
Tuesday, May 5th, 5pm: City Bicycle Works, 2419 K Street, Sacramento.
Wednesday, May 6th, 1pm: The bikefest rolls into Discovery Park to play, then peddles along the American River Trail to the show at Practical Cycle old Sac.
Wednesday, May 6th, 4pm: Practical Cycle, 114 J Street, Sacramento.
Thursday, May 7th, 10am: Sac. City College is hosting "People's Day" and will have us open the show. We will roll in and set up the bicycle-powered speakers in front of the main stage, and play from 10am-11am or so.
Thursday, May 7th, 4pm: Sutterville Bicycle Company, 2365 Sutterville Bypass, Sacramento.
Friday, May 8th, 8:30pm-11:30pm: Grand Finale! At the Naked Lounge, 1111 H Street, Sacramento. Come out and help us party into the night!
Related videos may be viewed here.