When the Occupy Wall Street protests began three weeks ago, most news organizations were derisive if they deigned to mention the events at all. …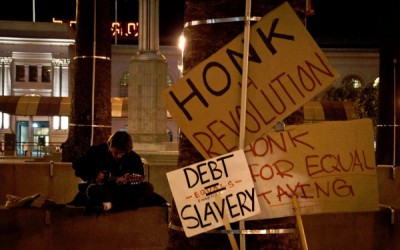 It is, therefore, a testament to the passion of those involved that the protests not only continued but grew, eventually becoming too big to ignore. With unions and a growing number of Democrats now expressing at least qualified support for the protesters, Occupy Wall Street is starting to look like an important event that might even eventually be seen as a turning point. …
The protesters' indictment of Wall Street as a destructive force, economically and politically, is completely right. …
Now, it's true that some of the protesters are oddly dressed or have silly-sounding slogans, which is inevitable given the open character of the events. But so what? I, at least, am a lot more offended by the sight of exquisitely tailored plutocrats, who owe their continued wealth to government guarantees, whining that President Obama has said mean things about them than I am by the sight of ragtag young people denouncing consumerism.
Bear in mind, too, that experience has made it painfully clear that men in suits not only don't have any monopoly on wisdom, they have very little wisdom to offer. When talking heads on, say, CNBC mock the protesters as unserious, remember how many serious people assured us that there was no housing bubble, that Alan Greenspan was an oracle and that budget deficits would send interest rates soaring. …
[Now] Mr. Obama's party has a chance for a do-over. All it has to do is take these protests as seriously as they deserve to be taken.
And if the protests goad some politicians into doing what they should have been doing all along, Occupy Wall Street will have been a smashing success.
The following two tabs change content below.

The
Humor Times
is the "World's funniest news source!" Sure, we like to inform our visitors, but in a playful sort of way. We believe political satire is one of the best ways to help folks let down their defenses and see things in a new light, as well as to help bring haughty leaders back down to earth. Plus, it's just plain fun! The
Humor Times magazine
(delivered to your door 12x/year) is a great way to enjoy this brand of humor, it makes a wonderful gift, and
SUBSCRIPTIONS
are very affordable!

Latest posts by Humor Times (see all)