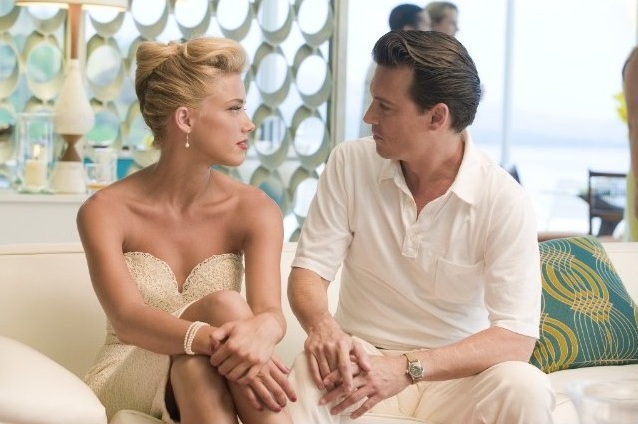 "The Rum Diary"  — A Film Review by Gary Chew
When Johnny Depp came into the frame as Paul Kemp, a reasonable facsimile of Hunter S. Thompson in "The Rum Diary,"  I couldn't decide whether Mr. Depp's coiffure was more like the one usually worn by Dirk Bogarde or always sported by the Yale, Oklahoma native jazz trumpeter and crooner, Chet Baker. But I knew I was being swallowed-up into a late Fifties milieu when our jazz was cool and our journalism gonzo…both with the expert assistance, respectively, of Chet Baker and Hunter S. Thompson.
Taking it from Thompson's earliest work, the cool but rebellious Johnny Depp has mother-henned "The Rum Diary" to a configuration on which Depp can ensconce his talent and ego to sing the praises of his hero who always marched to a drummer more distant.
Hunter S. Thompson was born in 1937 and, for his last act in 2005, did a "successful" interpretation of Ernest Hemingway committing suicide.
Mr. Depp apparently enjoys doing films in and about the Caribbean.  "The Rum Diary" is set in 1960…in Puerto Rico at a slow-dying multilingual newspaper called, The San Juan Star.  Paul Kemp is the only applicant for an open staff position at The Star, so he gets the gig, although he probably drinks as much as anyone else at the paper—which is a hellava lot.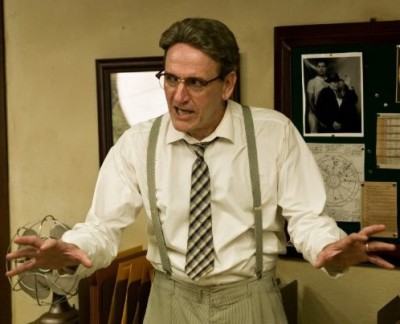 The always terrific Richard Jenkins plays Kemp's struggling boss, Lotterman, who advises his new hire that doing less booze than the newspaper's really wild characters (and I mean that both ways) is probably something The Star's newcomer might want to consider.
Two of the other wild yet marvelously neat characters are Sala, the unshaven, sousing photographer, played by Michael Rispoli; and Moburg, the hardly ever standing erectly and rather degenerate political and religion editor of the paper. (Moburg has a stash of recorded speeches by Hitler.) Giovanni Ribisi does the besotted Moburg in a manner to be remembered and could catch the attention of a few award-givers. Not to put a damper on Depp's contribution to the "Diary," though, some of the film's best moments stagger by when Sala and Moburg are on screen conducting themselves in their own inimitably outrageous ways. Unfortunately, the scenes they appear in being outrageous are not as humorous as the characters themselves.  I sensed some flatness to the funny stuff, but then, I saw the movie sober.
Kemp happens to engage in social intercourse with Sanderson, a mid-century predatory capitalist, probably not much different from those in the 21st century. Aaron Eckart as the cleverly smooth Sanderson is out to make hay for himself and his backers by transforming an island used for bomb practice by the US military into a chic resort and hotel for privileged people to bask in the Caribbean sun. Oceans of yanqui dollars and a couple of a dozen low-paying jobs are waiting to be made.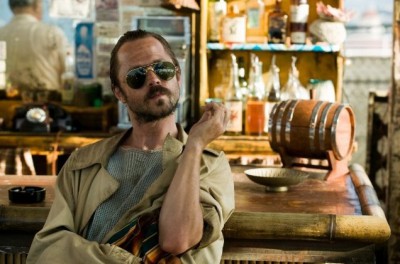 Sanderson must cajole Kemp to accept a job softening up the San Juan locals with appropriate PR articles to get the project off and running since the Kemp character is not so hip to Sanderson's jive.  It seems Kemp might be suffering from a slight lack of savvy for Sanderson's big picture.  But the alcoholic journalist signs on to the scam anyway when his yen for Chenault sets in.
Chenault is the lady in Sanderson's life.  Amber "Eye-Candy" Heard sounds off in the role of the lovely Chenault by quickly, of course, falling for the cool, more enigmatic Kemp.  Sanderson is chagrined by Chenault's turn of emotions and tempers flair after Johnny gets to drive a period model red Corvette at high speeds to woo the generously tanned and blonde woman who is, unhappily, on camera all too briefly to gaze upon or further gear-up the narrative.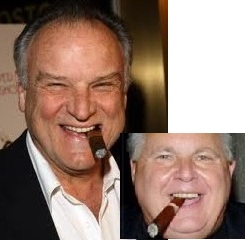 Then there's Mr. Zimburger, a well-heeled, type-A backer of Sanderson's who's played by Bill Smitrovich.  Very oleaginous is Mr. Zimburger, indeed…and with his robust build and the large cigar jutting from his jaw could easily pass for Russ Limbaugh — if Smitrovich weren't so craggy-faced.
If it had been possible to see "The Rum Diary" in about 1950 instead of 2011, many of us might've predicted that the Commies would overrun Cuba.  "Diary" puts the natives and locals of Puerto Rico at great odds with the entrepreneurials in from the North. This circumstance makes living within the environs of San Juan risky business for Kemp and his drunken newspaper buds, not to mention the svelte Chenault.  Much of the humor embedded in "Diary" is waiting to see which way the local constabulary lets the wind blow it, so to speak, insofar as whether wealthy businessmen are for or against a particular issue presenting itself upon the island's denizens.
Maybe there are those who consider Kemp and his debauched droogs of San Juan to be just as much bad guys as the…well…bad guys in this movie.  Certainly, Kemp's crowd doesn't measure up to anybody's high standards.  Booze, drugs, casual sex, acting unprofessionally and irresponsibly are part of their daily regimen, but these slouches do have a firmer grip on reality when it comes to cutting through the bull feces and getting to the one thing that Hunter S. Thompson could see quite acutely, thank you…that being the Truth.
Let's hope "The Rum Diary" might sober up some people, today, who masquerade as journalists.
Opened Friday, October 28, 2011.
https://www.youtube.com/watch?feature=player_detailpage&v=0YUx36yLLug

Latest posts by Gary Chew
(see all)