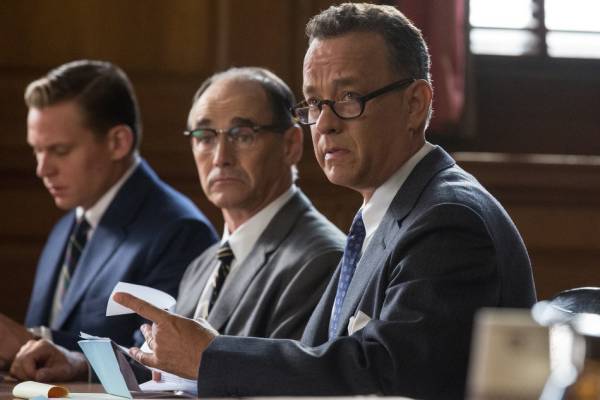 "Bridge of Spies" – a film review by Gary Chew
Seeing Steven Spielberg's new film as it now opens allows you to compare the current military activity of Vladimir Putin in Syria with the historic and legendary downing of an American U-2 spy plane over Soviet Russia in 1960 with Lt. Francis Gary Powers at the controls. But the comparison isn't what Bridge of Spies is about. Although Spielberg gives you a taut scene showing the plane's downing, it's what followed Powers' capture and the U-S trial, conviction and imprisonment of Russian spy Rudolf Abel.
As Spielberg is wont to do, Spies engenders a sense of patriotism and service to one's country. Tom Hanks plays the man at the center of Spielberg's adulation, James Donovan (1916-1970), an insurance attorney who, under much public derision and family distress, volunteered to represent Abel at trial. Mark Rylance has the role of Abel.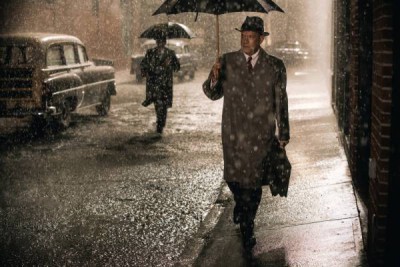 Although Donovan lost the case, he was influential in getting Abel's sentence reduced from death in the electric chair to decades of imprisonment. It was Donovan who suggested that if the Soviet Union were to ever capture an American, Abel would be perfect to trade for a would-be American's release. The U-2 incident made that "dream" come true, and Donovan was the man instrumental in engaging the complicated international exigencies for reaching the exchange which occurred in 1962 during the Kennedy Administration. Taking on those obstacles is the guts of Bridge of Spies.
The heart of Bridge of Spies is about the evolving relationship between Donovan and Abel, who is soft spoken and appears unflappable. There is humor in that by the way. Although Donovan and Abel are light years apart in terms of politics, both learn and come to respect and, just maybe, honor one another. That evolution lifts Spielberg's movie.
This could be Hanks' best performance. Rylance approaches "amazing" as Abel. Sebastian Koch, who had the lead in the Oscar-winning foreign film The Lives Of Others, plays Wolfgang Vogel, a lawyer for the Communist government, as we recall: the German Democratic Republic (GDR). The negotiations for the prisoner exchange are as convoluted as "needles hiding in Eastern Bloc haystacks." Donovan has to deal with Moscow's man in East Berlin as well. Don't let that put you off, the script will nail you, as written by Mark Charman and none other than Coen brothers.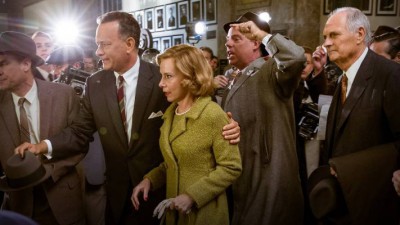 A subplot also speaks to Donovan's virtues. Nearly on his own, he grows obstinate with authorities holding Powers by insisting that a young Yale student in Berlin doing a study on the German economy be part of the exchange. The CIA is not so hot for that aspect of the negotiations. The young man is under the detention of East Berlin police.
Spielberg places a cherry on top of his latest film with music composed by one Hollywood's best and my favorite composer of movie scores, Thomas Newman.
Kennedy Press Secretary Pierre Salinger, in an actual news clip, is shown on black and white television announcing the favorable outcome of the prisoner exchange, which is the first inkling the Donovan family gets that James hasn't been on a fishing trip instead of in Europe for important, secret business.
A footnote that comes at the ends says JFK called upon Donovan to negotiate the release of many Americans being held in Cuban jails after the Bay of Pigs. Some were CIA operatives and many more were relatives of the agents, living then in Cuba. Research tells me that nearly 4,700 persons were freed by Fidel Castro and that Donovan was the only link between the U-S and the Cuban Communists. There could be a sequel to praise even more this most patient, decent and late insurance attorney. James Donovan died at fifty-three.

Latest posts by Gary Chew
(see all)