Here's a handy-dandy, low-cost, double-glazing tip to help you with your heating bills: Bubble Wrap Window Insulation!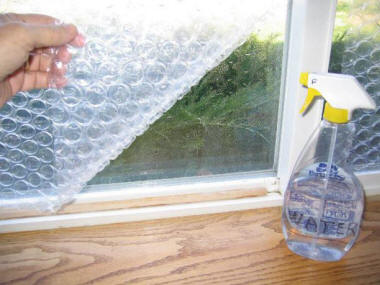 This is a simple technique for insulating windows with bubble wrap packing material.  Bubble wrap is often used to insulate greenhouse windows in the winter, but it also seems to work fine for windows in the house.   You can use it with or without regular or insulating window shades.  It also works for windows of irregular shape, which can be difficult to find insulating shades for.
Cut the bubble wrap to the size of the window pane with scissors.
Spray a film of water on the window using a spray bottle.
Apply the bubble wrap while the window is still wet and press it into place.
The bubble side goes toward the glass.
To remove the bubble wrap, just pull it off starting from a corner.  You can save it and use it for several years.  It does not leave a mess or stains on the window glass.