By Gary Chew
Glut time now at the old movie house, people. Must write this tersely, Hemingway-like, if possible…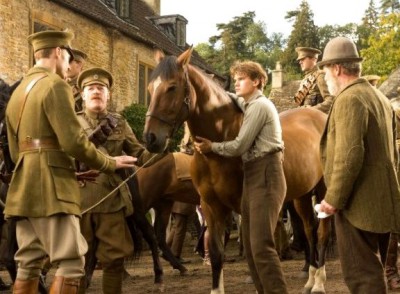 "War Horse": Steven Spielberg's visual stunner about WWI tells of a smart horse in that awful conflict. It's a striking equine taking the movie's lead that wins the hearts and minds of friend and foe…after bonding as a foal with a family in rural England. There's no forgetting what you'll see of Spielberg's picture-perfect images. They're so affecting, you'll forget that the story is pretty predictable, although satisfying. It's first-rate family fare. Horse lovers won't be able to rein-in themselves watching "War Horse."
What's novel about a silent film? You get the answer seeing "The Artist." It's really an ironic movie, too, if you watch it appreciating the notion that "The Artist" is something new about something old. About 90 years old. The hero of "The Artist" is always being told: you ought'a be in talkies." His character's name is spelled George Valentin (played by Jean Dujardin). Why George won't do talkies doesn't come till the end, but before that, you've got a curiously clever, reflexive film…with old fashioned subtitles and the actors emoting it all with their eyes and body.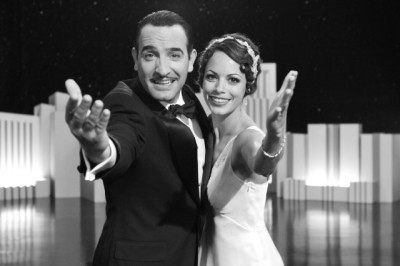 Our idol runs into Peppy Miller (played by Bérénice Bejo). George's gravitas as a silent film star opens the door for the pretty Peppy to outdo him in the picture biz. Soon, Peppy's the darling of talkies. That makes a rough row for George to hoe, even with his loyal mutt always at his side. Uggie, the doggie, steals all his scenes with aplomb. Movie hounds will surely get stoked seeing "The Artist.
With "The Girl With The Dragon Tattoo" number 2, word is out that James Bond has finally met his match…and it's a girl. This is the American re-make of the 2009 Swedish original that was part of the progeny from the terrific trilogy written by Sweden's remarkable author, Stieg Larsson.
"Tattoo's" a film that skips along briskly trying to cover a voluminous novel with good action, some of it grisly….with sadism, here and there, topped-off with girl/girl sex and the old-fashioned kind. I must read the book. Both films have tickled my fancy as to what all else is going on with a Swedish business family known as the Vangers. Sort of a Nordic version of the Ewings" but the Vangers are even more eccentric and socially constipated than J. R. and the Texas oil family of the old "Dallas" TV series.
Like both the Swedish and the US versions of the creepily great "Let The Right One In," "Tattoo" dares you not to watch. But you can't help but look  at its bizarre investigation into what happened to one the Vanger daughters 40 years ago. Daniel Craig, as an in-trouble magazine journalist named Mikael takes on a petite sidekick, a goth goddess named Lisbeth, played by Rooney Mara, so lookalikeable as to seem to be Noomi Rapace, the earlier tattooed Lisbeth. No truth to the rumor that Ms. Mara and Ms. Rapace are twins.
Come to think of it, Craig is a less resembling slender version of Michael Nyqvist, the first Mikael. What?  No sense of adventure for casting the second 'Tattoo?"
A sometimes unprintable word (fuck) emblazoned in various forms of usage on a t-shirt Lisbeth wears in a scene with Mikael suggests one might not want to mess with her.  Take it to heart.  Mikael seems a bit amused at the candor of Lisbeth's casual apparel.
Craig plays it here a bit more frazzled than 007, but it's still a good reading. And Ms. Mara is surely the coolest female to ever get in front of a Panaflex. It would be an understatement to only say that Lisbeth's attitude is intense. She hates men for what was done to her as a girl. Which sets up one thing that turns out really nice about "Tattoo."
Although a lesbian, Lisbeth, in a phrase, comes across, after getting respect and validation from Mikael. She learns, finally, that being with a dude isn't half bad: "Social Network" director David Fincher trying for a little tenderness.
"The Girl with the Tattoo Dragon," American style is good, but doesn't tell its version of Larsson's gripping narrative as clearly or forcefully as the bigger hearted and less flashy Swedish original directed by Niels Arden Oplev.

Latest posts by Gary Chew
(see all)