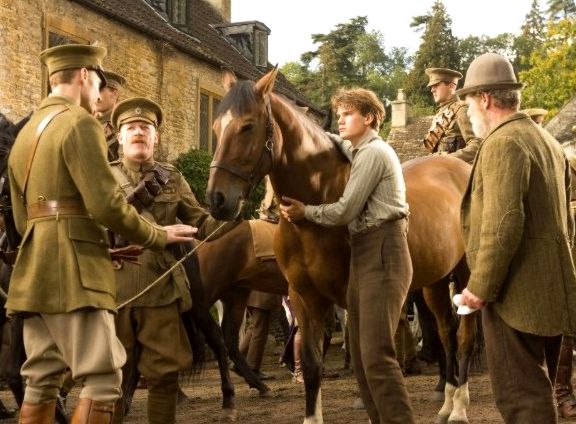 "War Horse" | a film review by Gary Chew
If you've seen it, imagine if you can, Joe Wright's significant 2007 motion picture "Atonement." Remember Wright's lauded but non-Oscared 5-minute tracking shot of the film's amazing depiction of Dunkirk? A masterpiece in one take; not a cut in it.
Now imagine a new Steven Spielberg film that astounds your visual senses nearly as much as Wright's one scene, but Spielberg going Wright one better by crafting astounding cinematic images throughout his movie. Spielberg's "War Horse" runs approximately 2-hours and 25-minutes longer than Wright's superb tracking shot in "Atonement."
From Michael Murpurgo's acclaimed 1982 same-titled children's book, "War Horse" has maneuvered to the inside track for accolades as a Broadway play. It's still running and likely in for some of the same treatment as cinema.
For full disclosure, I must say that "War Horse" isn't exactly my kind of picture, so what's said here could be interpreted to have more weight than the words chosen to describe it.
If you want to experience cinema that comes as close to visual perfection as it gets, this is one to see, even if the story seems somewhat contrived at the end and the sentimentality button might be too frequently pressed along the narrative's way with fine sonic support from the kind of original screen music you've come to expect from the venerable John Williams.
It does seems querulous to complain about a film for looking perfect, so I won't. But that's what came to mind more than once watching "War Horse." At times, it took my breath away, conjuring up memories for when I first saw "Gone with the Wind." And I'm thinking maybe that Joey should get an Oscar for his performance in "War Horse." Joey is the horse.
"Atonement" is set in early WWII. "War Horse" leads you into WWI when horses were still a significant complement to the military. The film begins with Joey as a bay red foal on a farm in Southwest England. It relates the equine's remarkable relationship with Albert Narracott (Jeremy Irvine), a teenaged boy who lives with his parents and an intrusive goose in the County of Devon. Emily Watson and Peter Mullan are excellent as the mother and father.
Young Albert raises and trains the horse but the war and financial duress of the Narracott's force the father to sell Joey to the British Cavalry just as the conflict with Germany begins.
Two stand-out but brief performances are part of Joey's time with the Cavalry. They're by Tim Hiddleston (F. Scott Fitzgerald in "Midnight in Paris) as Captain Nicholls and Benedict Cumberbatch (the creepy guy in "Atonement) as Major Stewart.
Joey has the lead in the film. The story follows his high adventures into the thick of battle all the way from Albert's bucolic home onto the British military; then into German hands, where he escapes into the nurturing company of a kind, old French farmer and his granddaughter. Later, Joey finds himself at great risk in the muck mire and blood of No Man's Land, hobbled by barbed wire between the opposing armies.
The harshly gaunt No Man's Land sequence and its trench warfare are reminiscent of Stanley Kubrick's black and white classic "Paths of Glory," although Spielberg hardly shows blood and gore in his realistic depiction of battle.
Most soldiers and civilians who come in contact with Joey, whatever their nationality or political persuasion, are inspired by the spirit and strength of this strikingly beautiful horse. The story makes plain the truth that there are good guys and bad guys in any kind of category or social niche. And this…just in time for Christmas, too.
"War Horse" screenwriters Lee Hall and Richard Curtis also make it clear that intelligent equine are able to sense the values and intentions of humans and react accordingly as to how persons comport themselves in the animal's presence—always a specialty of motion pictures for as long as I can remember.
Another point to make about "Horse" in comparing it with the visual cited in Joe Wright's "Atonement" and Spielberg's near perfection: on the whole of it, "War Horse" is never wrong…yet though, taking it to an extent so that this spectacular film seems not to look natural. "Atonement" was beautifully made, as well, but isn't perfect. It has a more natural look. In terms of film as art, I don't know if that's good or bad, but there certainly is that difference to be seen between these pictures that provide such an epic sweep to history.
There couldn't be a better film for the holidays than "War Horse." Eat some turkey with your family and friends then (the whole bunch of you) take this one in and wallow in its unbridled wholesomeness and quiet, subtle message against war. Be glad there are filmmakers such as Steven Spielberg. Don't forget, he was the guy who directed "Schindler's List."

Latest posts by Gary Chew
(see all)