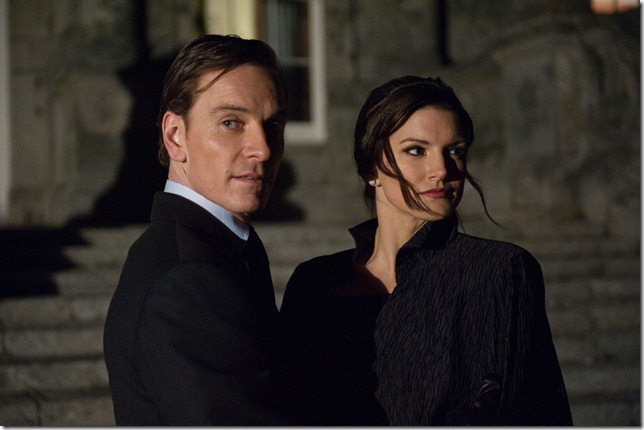 "Haywire" — a Film Review by Gary Chew
It was revealed this evening at a movie screening I attended that the US has a new secret weapon. No need to worry folks. America will continue to be the leader of the free world because of this asset.
The device is called a Gina Carano. No it's not some kind of Italian-made nuclear-powered laser space weapon, but a Texas-born woman who's about 30 years-old—and can she kick ass, especially if the butts she's kicking are attached to the frames of men. Nor would any tattooed lady like Lisbeth Salamander last a round with Gina Carano.
Ms. Carano, in the role of Mallory Kane in Steven Soderbergh's new film, "Haywire," gives no quarter to the men she must confront with her strikingly statuesque, in-shape figure, velvety low-end contralto voice and razor-sharp mind. Would you believe men like Michael Fassbender, Ewan McGregor, Antonio Banderas, Channing Tatum and Michael Douglas?
A line of dialogue is worth recounting here: one character remarks to another character in the movie something to the effect that "Mallory is a woman." The responding character's line is, "Oh, don't think of her as a woman." For any man, that would be a very large order, but, if obeyed, would probably save his life.
Mallory, an ex-Marine, is a get-the-job-done kind of covert black ops gal who works for a private contractor fellow known as Kenneth (McGregor). Michael Douglas, attired in the persona of the impenetrable Gordon Gecko, plays a government dude who "can't know" about what he puts into play. So he hires Kenneth's people to do it. Banderas is a foreign operative who's as smarmy as Kenneth. And Mr. Tatum plays Mallory's sidekick (no pun intended). He also has the advantage of enjoying extra-curricular activity with Ms. Mallory. Some guys have all the luck.
Steven Soderbergh's movies are always hip and smart—even the ones he makes that aren't so good. "Haywire" is hip and smart. And it's good…excellent entertainment and, for me, at least, a freakin' laugh-riot. Why? Because the actors play for real in an action/chase-oriented spy yarn that's somewhat comparable in tone to Roman Polanski's very excellent film "The Ghost Writer."
If you want to dig into the whys and wherefores of who's doing or has done what to whom and where, it's there in the narrative, and very efficiently related, I might add. But should you want to let the film just take you along for the action-packed ride, that's fine too. Be ready to move fast with the flow, though.
More on mirth: It was"Haywire's" sub-text that quietly nudged me to chuckle a lot, maybe to the chagrin of those seated near me, but there were others there doing the laugh thing along with me. I felt good about that.
And what's not to feel good about Gina Carano? Not much, except at one point in the 3rd act, when someone Mallory knows well, is dispatched. Her demeanor in those moments, with her generous face painted for battle, it occurred to me that Mallory might suffer from PTSD like so many real-life military personnel do today. That thought took some of the zing out of "Haywire," but only fleetingly.
Honorable mentioning should ensue here for Soderbergh's handy camera work, brilliant composition, lighting and the fine music by David Holmes that's laid-in just at the right moments in a neat cinematic way so as to not get in the way. Hurray for more of that.
Since Michael Fassbender shows up for really good "Haywire" action with Ms. Carano and is concurrently doing much in the way of astounding moviegoers with his role as the degenerate Brandon in "Shame," I must tell you that Soderbergh has worked in a brief scene that allows for Mr. Fassbender to parade around a hotel room with only a bath towel clinging (at waist) to his slender physique. Some gals have all the luck…when seeing this sequence in the movie.
But what's most interesting about "Haywire?" Despite the very worldly, savvy but jaded modern-day people depicted in the picture, I don't remember hearing any really blue language, except the very first and last words uttered on the soundtrack…both of which are…uh…s#*t. (I think I spelled that right.)
On leaving the "Haywire" screening, I told the studio rep just outside that I smell a franchise coming on. Daniel Craig: If I were you, I'd watch my back. And her name is Gina Carano.
Relativity Media released the first 5 minutes of the movie as a trailer, below (warning: some violence and language):

Latest posts by Gary Chew
(see all)