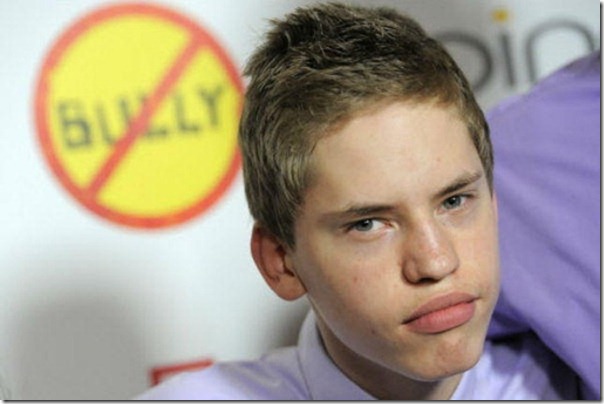 "Bully" — A Film Review by Gary Chew
Another polemic documentary film is here.  It's called "Bully".  You can see it at the Tower Theater, Land Park Drive and Broadway in Sacramento.  "Bully" has already generated a feud.
The opposing parties are those incensed by suicides of youngsters bullied into taking their lives, and another incensed faction that believes some of the victims followed in the documentary are targets of harassment due to their being gay.  The latter group's conclusion is that director Lee Hirsch's blunt but not excessive film promotes a homosexual life style.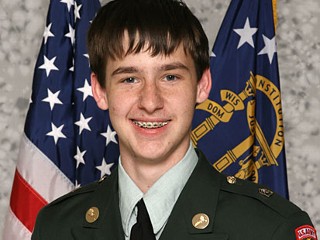 To think that it's more important that people should not hear about homosexuality than knowing there are persons who can be bullied into killing themselves, seems absurd to me.  But this is about the film, not what people on latter side of this issue see as Truth.
"Bully" isn't only about gay, young people, it's about kids in public school who are ridiculed for being different.  A different looking face, different skin color, a mental disorder, lack of sociability, obesity or a diminutive size are traits that often trigger bullies.
The movie says that bullying is quite problematic. Who can stop it?  Teachers, administrators, parents, police, the clergy?  The answer to that is almost as contentious as bullying itself.
If one is bullied in public education surroundings and his or her parents can't afford to send their child to private school to avoid peer harassment, options for a positive resolution shrink.
Bullying is not new.  However, a spate of teens bullied to suicide (as media have reported in recent years) has caused many, especially parents of the deceased, to coalesce into an effort to stop abuse.
Public school students from Georgia, Iowa, Mississippi, Oklahoma and Texas are followed in their daily routine during the 2009-2010 school year…in the class, on the playground, on the bus and in the street.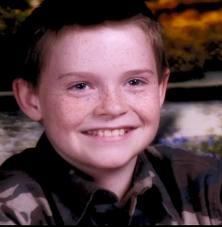 Some of the street and school bus talk includes coarse language familiar to almost anyone, and just as common as bullying. Due to a few F-bombs, the filmmaker and  releasing firm (The Weinstein Company) received notice, early on, that the documentary would be rated R by the Motion Picture Association of America.
Director Hirsch felt the film couldn't reach younger audiences with the R rating.
"Bully" has since been rated PG-13 after Hirsch and the Weinstein group agreed to bleep some offensive language. But subtitles sparsely used to clarify fuzzily recorded dialogue do spell-out some blue language.
The picture's most moving moments come when the parents profess their love for the  children they've lost, and how much they're missed.
Tyler Long (Murray County, Georgia School System) and Ty Smalley (Perkins, Oklahoma public schools) were both victims of bullying. The boys killed themselves after enough…got to be more than enough. The film focuses on their families, with vintage  clips showing the boys in daily living.
Most attention is paid to Alex Libby, a public school student of Sioux City, Iowa (pictured at the top). Fortunately, Alex did not commit suicide but since he's known as Fishface in school, it's easy to imagine the ridicule that's been part of his life.   Hirsch gives us some of it.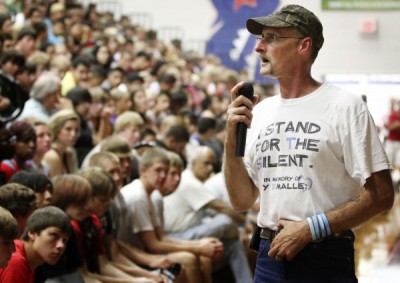 "Bully" doesn't have much of an arc. The video casts as a silent eye mostly on the families with brief conversations among the kids, their parents and between parents and school administrators as well as board members.
Near the finish, it's clear the film is first meant for young people themselves, not necessarily concerned adults. According to the movie, when a youngster is about to be bullied, pressure from larger numbers of non aggressive, witnessing students that persuades the perpetrators to cut the harassment is the most expeditious way to undermine it.
Stopping it before it starts.
The film's finale shows a rally held in October 2010 on the grounds of the Oklahoma State Capital in Oklahoma City. The event's intent was to enlist supporters for the "Stand For the Silent" organization now involved with sharpening public awareness for bullying.
Ty Smalley's father, Kirk, speaks to the crowd about his son and the importance of standing up for those who suffer such abuse.  It was a bit disquieting for me as I once worked in public television in Oklahoma City, and often drove past the Capital building with its oil derrick out front (as seen in the film).
Focus on the Family, a Christian organization that also opposes the PG-13 rating, says the film encroaches on its members' freedom of religion. The faction believes that being part of the LGBT community is a sin and that Focus on the Family's faith requires that their children be sheltered from, what it claims is, the sinful nature of homosexuality.
Focus on the Family has indicated it will counter-demonstrate the "Day of Silence" event scheduled on April 20th that will protest against LGBT bullying.
Kelby, an Oklahoma teen and uncloseted lesbian flashes a winning personality in the film.  She and Alex, who is not gay, show more than enough charisma to be in feature films, not just one about their being bullied.
I hope that happens for them.
On another cultural note, each Canadian provincial government rates films for its residents, not Ottawa.  All Canadian Provinces initially gave "Bully" a PG rating.
Hail Canada.
On first reading that, I wondered if there's a significant difference between the bullying-caused teen suicide rate for Canada and the United States.

Latest posts by Gary Chew
(see all)