"Moonrise Kingdom" — film review by Gary Chew
"Moonrise Kingdom" has a curious mix of qualities. It's clever and sweet, but with every character in the film acting their part overly officious, even the children. The movie is also quite tedious, at least some of it.
It's just opening at the Tower Theater, Broadway at Land Park Drive, Sacramento.
The first third of "Moonrise Kingdom" lumbers then trudges along as it establishes a budding relationship between a pubescent boy and girl and to remind the moviegoer of the quaint eccentricities of the native inhabitants of the story's setting. The second act picks things up. And the end is quite nice.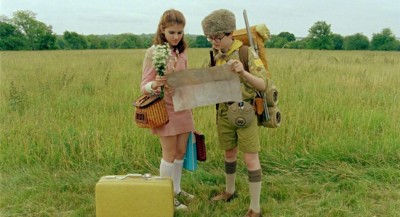 In fact, it's very nice.
First, a little background …
New Penzance Island (a fictional place off the U.S. Atlantic coast), 1965. Khaki Scouts Summer Camp.
Scoutmaster Ward is stoked because one of his rather recalcitrant boys has gone AWOL, if that word can be used for Boy Scouts. The concerned Scoutmaster brings on the whole platoon (if that's also an OK scouting term) to search for Sam.
The twinkle in the eye of "Moonrise Kingdom" tells you, though, that there's not a lot to worry about.
On the lam, Sam has a meet-up with Suzy in a bucolic pasture after they've had time to think they might be in love with each other. They both agree and then know they must shed their shackles of being "ordinary children" either he at summer scout camp or she in a family on the island with a dictatorial father … and awful, bratty little brothers.
Will the scout troop find them? What will the local constabulary guy, Bruce Willis, have up his sleeve to rescue the young pair, just in the nick of time?
Speaking of "time" …
The movie is longer than it needs to be. The exposition could be done succinctly. Establishing the culture and attitude of people depicted in "Moonrise" can only be amusing a reasonable length of time for people sitting in a movie house, even if the characters portrayed on the screen represent the best of those who inhabit the attitudes and perspectives of folks from the far Northeastern part of these United States.
Bill Murray playing that officious, authoritarian father of young children is really funny. But the narrative needs to move along, even though Bill is not only funny, but also very good being at something that's his antithesis, it seems.
And what about a guy who can act any part? Edward Norton's character is also a braced-up, well-meaning authoritarian. He's the Scoutmaster.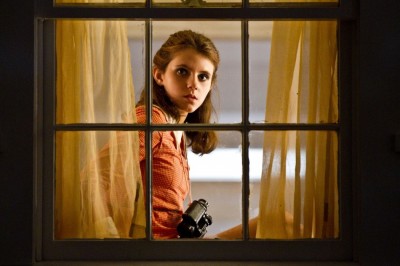 The list goes on, with Frances McDormand, the mom; Bruce Willis, the sheriff; Tilda Swinton, the Social Services lady; Harvey Keitel as the High Pooba of the Khaki Scouts; and Bob Balaban, the film's standup, on-camera-looking-at-you narrator — who might secretly be a gnome.
Balaban and McDormand are the only suspects in this movie who are probably not playing against type.
Neat. Great bunch. But … move the story on, please.
The main characters are the boy, Sam, played by Jared Gilman, and the girl, Suzy, played by Kara Hayward. Since you may never have seen these fine young actors, Jared wears Woody Allenish specs in the film, but seems less romantic than Maestro Allen. And Kara appears to be, but probably not, a younger cousin of two established film actors, Jennifer Connelly and Emma Watson.
Wes Anderson wrote and directed "Moonrise Kingdom." Three other creations from this Welch-born fellow who schooled at UT in Austin come to mind: "Bottle Rocket," The Royal Tenebaums" and "Rushmore."
Now you know why "Moonrise Kingdom" is a skosh eccentric.
But to go somewhat out on a limb, I must say that I hope there's a possibility the good folk of what are termed the New England States of America might smile watching this film. "Smiling" means "really funny" for the people of New Hampshire and Maine.
Now Southerns of the USA have a movie they can see that laughs at Yankees.
"Moonrise Kingdom's" joke carries to the end. But not long before the close, the good stuff kicks in. It's something for children of all ages … believe me.

Latest posts by Gary Chew
(see all)