"Six Chix" contributor Isabella Bannerman has always loved making people laugh
"Now that I'm 51," cartoonist Isabella Bannerman tells me, "cartooning is easier than it's ever been. I don't care the way I did about what other people think. I've stopped censoring myself. It gives me tremendous freedom."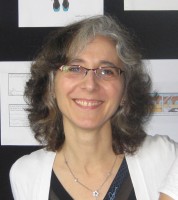 Bannerman, who has contributed the Monday cartoon to King Feature's popular "Six Chix" strip for over a decade, has always loved making people laugh. She grew up in a family that valued humor. "My parents loved to laugh," she recalls, "so being funny got me a lot of attention." After years of amusing friends and family with her humorous drawings, Bannerman's cartooning career was launched in 1987, when her sister suggested that she submit a cartoon to the San Francisco Bay Guardian Cartoon contest. She won first prize.
Besides a family culture that encouraged laughter, Bannerman traces her knack for tickling funny bones to an unlikely source — a high school English teacher who encouraged her to read Kafka and Sarte. "I probably wasn't supposed to find Kafka funny," she says. "But I did. To this day, my cartoons often focus on the petty frustrations of middle class life. You constantly believe that you've followed all the rules. Then, when you're about to reach your goal — you find that the rules have changed!" She pauses. "I guess I'm fortunate that I find that funny."
Isabella Bannerman finds plenty of funny things to inspire her wry gag cartoons and and comic strips. Pop culture. Technology. Food trends. ("Our fridge stays full of nutritious, low fat food," a woman comments in one cartoon, "because we usually end up ordering pizza.") She has a knack for mocking the things that matter deeply to people in a way that lets them in on the joke. "Coffee God," her most successful cartoon, which pictures a crowd of tiny people praying to a gigantic pot of coffee, has sold steadily on T shirts, magnets and posters for almost two decades. Being a woman has always informed her wit. "It's ridiculous," she says, "how much is expected of us. We're all supposed to do everything perfectly. Marriage. Motherhood. Fashion. Diet. One of the points I try to make with my humor is that we don't have to buy into that." (An example: A cartoon captioned "How to Flatten Your Tummy" advises: "Lie face down on the floor. Your tummy will flatten.")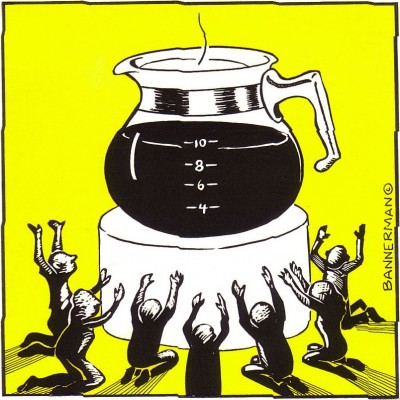 Bannerman carries a sketch book with her for recording ideas. Daily life provides plenty of inspiration. "If I can create some emotional distance, I can usually discover the humor in a situation," she says. "The one thing that never fails is when I catch myself taking myself too seriously." Back in her studio, she transforms these sketches into the weekly panels she submits to King Features, as well as the work she's published in The New York Times, Good Housekeeping and Glamour. "Pacifists in Bomber Jackets," a collection of her work, was published by Laugh Lines Press in 1999. Over the years, Bannerman, who holds a degree in print making from Pratt, has held a variety of other art-related jobs, for employers from MTV to Pee Wee's Playhouse. She is also a painter of landscapes (her work is available through Gallery on Cedar) and has recently begun sketching portraits at street fairs and festivals.
Never edgy or experimental, Bannerman has always been happy to turn out classic, reliably funny comic strips. She's learned what works for her, in both her work and her personal life. "I place a high premium on friends who can make me laugh," she says. Her fellow "Six Chix" cartoonists are valued pals. Her husband of 21 years, advertising copywriter Jim Nolan, is also a humorist. "We make each other laugh," she says. "What inspires me more than anything," Bannerman concludes, "are my long time friends." She remains close to folks she's known since first grade. "There's an honesty to those relationships that guides me," she says. "I value the belly laughs we've shared since we were kids. Old friends can be a tough audience but when I can make them laugh — that's the best."


Bannerman is the mother of two sons. When they were little, finding time to devote to her work was a challenge. "If you're both a mother of young children and an artist," she says, "you have to keep reminding yourself not to neglect your creative life. Motherhood and family obligations can completely overwhelm you." Of course, motherhood can also inspire — some of Bannerman's best work is about being a mom. She strives to reach a balance, where her life experience informs, rather than disrupts, her art. That's easier now that her sons are teens. These days, mothering is less about watching after them and more about settling in on the sofa to watch "The Daily Show" with them. Indeed, at 51, Isabella Bannerman is in a great place — she's not only turning out the best work of her career, but she's raised a new generation of a family who loves to laugh.
(This profile first appeared on www.womensvoicesforchange.org.)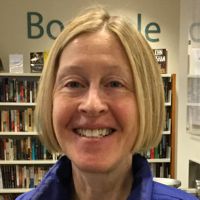 Latest posts by Roz Warren
(see all)