In the news, Charlie Sheen was cast as a U.S. president and Mel Gibson as a drug lord for the movie Machete Kills, to be filmed in Mexico. Casting was a snap. The Mexican cartels sent the movie studio a list of the actors they'd never kill because of ongoing business relationships.
Penn State former defensive coach Jerry Sandusky was convicted of forty-five counts of child sex abuse Friday. He was led away in handcuffs. For forty years Jerry Sandusky has worn a Penn State jersey and now he must flip it upside down so it will read State Penn.
Washington Monthly says the most visited tourist attraction in the city is the Lincoln Memorial. It's not just because he freed the slaves. Every American wants a president who can balance the budget, keep the country safe, and rescue really hot chicks from vampires.
Men's Health ran a survey Sunday finding that the GOP convention site city of Tampa is the most vain city in the U.S. It was based on sales totals for Botox, cosmetic surgery, hair dye, teeth whitening and tanning salons. The Secret Service is holding a contest with a prize for the delegate who can look the most like Mitt Romney by the end of the convention.
President Obama's re-election campaign asked soon-to-be-married people on Friday to ask their guests to donate to Obama rather than give wedding gifts. Even Democrats were appalled. Bill Clinton didn't want your wedding gifts, he just wanted your honeymoon.
In the news on Monday, the Supreme Court upheld an Arizona law requiring police to determine an immigrant's legal status on traffic stops. Opponents call it cruel. The idea behind the law is to drive illegal immigrants out of Arizona and back to their homeland of Los Angeles.
Homeland Security is canceling its cooperation with Arizona police. They're cutting off computer access to citizenship records. It could force Arizona to get a Google phone number so Homeland Security won't recognize the area code and refuse to pick up the call.
Egypt's Muslim Brotherhood party candidate Mohamed Morsi won the presidential election Sunday. He got a letter of congratulations from the White House press secretary. On the scale of respect in the Arab world, it's just this side of having a shoe thrown at you.
Saudi Arabia was urged last week by feminists to increase women's rights in the kingdom. Women and girls must be totally covered in black whenever they go out. Every year they lose little girls on the streets when sanitation trucks mistake them for lawn bags.
Secret Service agents came under probe Sunday for a Nantucket barroom brawl they got into over a woman on the dance floor. In a way it's a sign of growth. The agents are learning that romancing a woman takes a lot more time and effort than just paying for her.
President Obama spoke to a Hispanic group banquet in Florida Saturday. The Secret Service took away all knives and forks in the room before he entered. Floridians don't want to contemplate how tourism might suffer from a fourth cannibal attack in one month.
USA Today reports that Iraq's growing oil exports and massive construction projects are fueling boom times in the wake of the U.S. military pacification of Iraq. It's an old story. If Vietnam had a any sense they'd admit they were doing steroids and forfeit the win.
The news reported that the Beverly Hilton Hotel was the scene of a murder-suicide Saturday an hour before the Daytime Emmys Awards were televised from the hotel's ballroom. Everyone in show business viewed it as a senseless tragedy. The Daytime Emmys are hardly worth killing or dying for.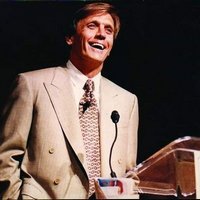 Latest posts by Argus Hamilton
(see all)