'A Late Quartet' — film review by Gary Chew
The title for this film is a double entendre, but so used for those familiar with chamber music. The phrase, "A Late Quartet" is often spoken to describe later chamber pieces composed by Beethoven.
In the case of the film's script, "A Late Quartet" also means, more ironically, a foursome in the process of disintegration while rehearsing and performing the composer's favored late string quartet: the Beethoven, Opus 131.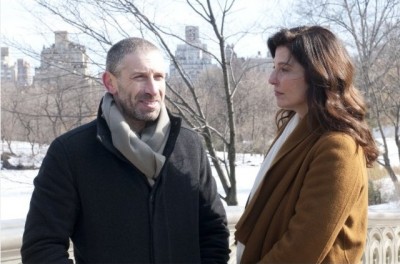 No, this movie is not lugubrious and distance for us ordinary people; the story could as easily be placed
on the arc of an evolving or dying quartet of famous rock musicians: a more common occurrence that
gets much more "ink."
What we're you doing when the Beatles broke up?
Only that slender niche of classical and chamber music lovers in "A Late Quartet" know of the Fugue Quartet and it's exemplary history of playing all the "right" and very difficult pieces written by such figures as Beethoven, Mozart, Haydn, Shostakovich, Bartok, etc.
"A Late Quartet" is really about five people. Let me list them.
There's Robert, second violin (Philip Seymour Hoffman), who's wife is the violist, Juliette (Catherine Keener). Peter, the elder member of the Fugue Quartet, is the cellist (Christopher Walken) … and the most talented of the four, Daniel, first violin (Ukrainian actor, Mark Ivanir). The fifth important character is Alexandra (Imogen Poots), a studying violinist, and the lone offspring of Robert and Juliette.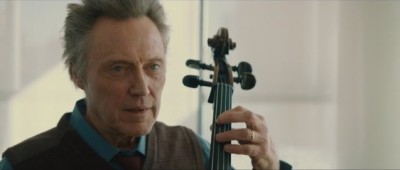 Bad health news arrives for Peter. He's 30 years older than the rest of the ensemble. Time for a new cellist. Thus, Robert would like more time playing first violin parts. Juliette, who is deeply loyal to her loving, second violin husband artistically believes the current first violinist is better suited for that chair. But early on before the story begins for the viewer, Jules (as she's called) had a thing for Daniel prior to meeting Robert, although nothing ever happened. Daniel is doing Robert and Juliette a favor by giving daughter, Alexandra lessons. She has much promise. Alexander is struck by the older, very talented, very musically committed Daniel.
Whoops.
This is a very well written and acted soap opera laid on some of the most imaginative and majestic music ever written. But, classically trained musicians are, in case some aren't aware, just human like John, Paul, George, Ringo … and us: the ordinary people who listen to whatever music it is that we like best.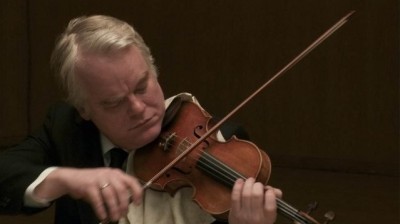 Peter has recently lost his wife. He is the real teacher of the foursome. Walken does the film's best scene which has Peter in the classroom teaching string players. He recounts some moments he spent with the great, real life cellist, Pablo Casals. This spiel, done so well by Walken, makes it perfectly clear what kind of man Peter is. He shows pure satisfaction in the giving of his experience and talent to young, gifted musicians.
This is quite a stretch for Christopher Walken who is more often seen in films "packing" and, generally, being a "memorable" hood. If you don't believe me, check him out in another current film, "Seven Psychopaths."
"A Late Quartet's" cast of players are as dedicated, it appears, to their profession of being good actors as the people they portray are committed to performing great music.
This is really a good, satisfying movie, even if the term "soap opera" and been brought to its definition.
Yaron Zilberman, the director, offers up his debut feature film with "The Late Quartet." To his credit already, Zilberman has the documentary,"Watermark" (2004) on his resume. It chronicles the story of the Hakoah Vienna Jewish swim team of the '30s, a group of women who defied Hitler.
"A Late Quartet" was written by Seth Grossman.
You don't need to enjoy classical music or know anything about chamber music to appreciate and be taken by this winning film.

Latest posts by Gary Chew
(see all)