Journal entry:  November 22, 2006 (age 37) — Thanksgiving poem
Why does Christmas get to have all the poems?  Here's one I just dreamed up in a Thanksgiving tryptophan-induced doze:
'Twas the night before Thanksgiving, and all through the fridge,
Not a dish had been tasted, not even the rum porridge made by Aunt Midge;
The stuffing had been stuffed in the turkey with care,
In hopes of filling the loneliness the bird felt in there;
We, the owners of the fridge, were nestled in our Craftmatics,
While restive, hungry rodents danced in our attic;
When out in the kitchen there arose such a clatter,
I shoved my wife out there, to see what was the matter;
When what to her bleary eyes should appear,
But a surprised and plump man, drinking my beer;
I followed behind, in time for introductions,
And spied the strange man in the midst of larder reductions;
"I'm the spirit of Thanksgiving and the name's Turkey Tom,
Have you got any more mashed taters — you must be Mom?";
Before we could speak, he invited in his motorcycle club,
Eight enormous fat men in leather, all looking for grub;
They ransacked the room in search of more board,
Until Tom called the spirits by name (by then he'd grown bored);
"On Oliver Hardy, on President Taft, on Henry the Eighth!
On Big Bopper and Elvis, and the chubby cousin of John Kenneth Galbraith!"
(He didn't even mention the Guinness Book motorcycle twins —
They had already gone next door, in search of loaded potato skins);
Tom shooed the other six from our kitchen, and right out the front hall,
Shouting "Wobble away, wobble away, wobble away all!"
 My wife and I looked at each other with shock and dismay,
As we imagined all the hungry relatives who were headed our way;
Our Thanksgiving looked ruined, our cupboards bare frames,
But Tom said, "When no one has indigestion, you'll be glad we came."
 And with that, he not quite hopped onto his Harley,
And shared with us words shaped by hops and barley;
"Happy Thanksgiving to all, including thee and thee,
and may you (burp) — oh, excuse me!"
The following two tabs change content below.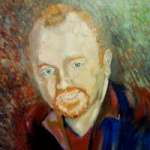 Buy your copy of "Lost Journal - the Book" at
www.timmollen.com
. Each Lost Journal column is a journal entry written in retrospect. In other words, Mollen chooses a different day from his past, and writes about it as though it were today. The date may be last week, Halloween 1980, or the day he was born (May 4, 1969). Some of you may be asking, "But how would he have been able to write a journal entry on the day he was born?" To you he says: "Lighten up. It's a humor column." Mollen is a nationally syndicated columnist and actor, and he is available as a speaker on writing and humor.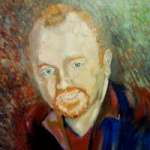 Latest posts by Tim Mollen (see all)