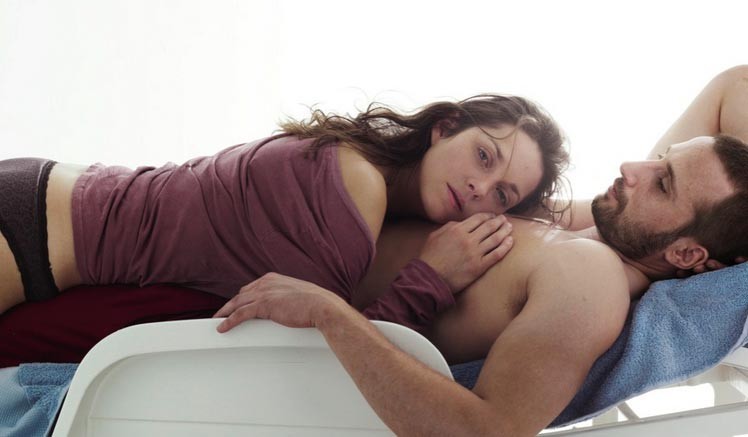 'Rust and Bone' — a film review
If your favorite kind of film is one that has poetic elements, yet seems almost random as it realistically unwinds, depicting hard-scrabble living, then have I got the movie for you: Jacques Audiard's "Rust and Bone," also called "De rouille et d'os."
A lower middle class Belgian named Alain van Versch (Matthias Schoenaerts) moves with his young son to Alain's sister's home in Antibes. It's on the French Mediterranean, about equidistant from Cannes and Nice.
Alain is scuffling for income. He's not even above thievery. But he seems to be a good father, and his sister (a working stiff union member) is helpful with caring for Sam (Armand Verdure), as well. Soon Alain gets a job as a nightclub bouncer. Things start to look up for the father and son.
Alain meets Stephanie (Marion Cotillard, "La Vie En Rose") at the club during an altercation that requires Alain to protect her. To ensure the woman's safety, he accompanies her home. Her circumstances then become part of the film's exposition.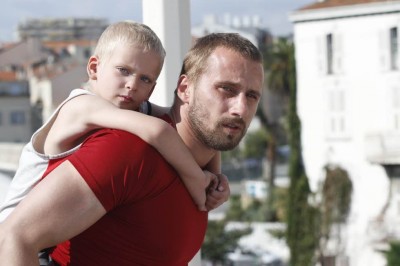 After we learn that she is a killer whale trainer at Marineland, and enjoy watching her association with the black-and-white beasts that arch from the water into the air so gracefully, Stephanie suffers a horrific accident with one of the mammals, which causes both of her legs to be amputated just below the knee. As the scene is part of a Belgian-originated film by a French director, gore is not emphasized.
Director Jacques Audiard ("Le Prophete") does make us endure her pain and suffering, as well as the anguish the mishap has brought to her life that, up to now, she's been living in her prime. Stephanie is also independent and quite lovely, but now, very depressed, angry and ashamed of the stark physical changes put upon her.
Alain had given her his phone number following the nightclub scuffle. She's not getting the support from others that she needs after the accident, and calls him. So their story begins.
Over time, after moments of suicidal thoughts, Stephanie "comes back to life" with the close attention of Alain. It seems that, when they're just off the beach in the warm Mediterranean, Stephanie experiences a secular baptism that allows her to enjoy living again, although without legs. It has all come to pass with the couple's relationship as though they are brother and sister. Alain is even consorting with other females when he's not with Stephanie. His attitude is helpful and supportive, yet nonchalant, along the lines of "you do your thing and I'll do mine." Eventually, she implies her need for physical love. He provides it. Not having half of each of her lower limbs is no matter to Alain.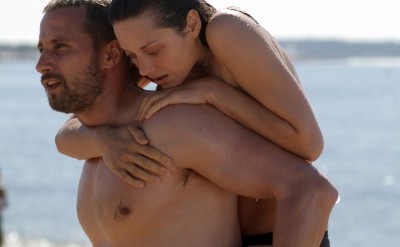 Scenes of their lovemaking are shown, without specificity, although (warning) a glimpse of full frontal male nudity is allowed by Audiard for a non-erotic scene.
Previously a boxer, Alain begins making better income with a shady manager, who arranges illegal fighting and kickboxing matches for him with other men. These events are covert, quite bloody and violent, much like rooster fights. Alain is good at it, but sometimes gets his butt kicked. Stephanie is not big for the fisticuffs, albeit becomes more sanguine as time passes.
She now walks, thanks to prosthetic legs; wheelchairs, not so much.
There is much more to this French-language film (easy to follow, with short subtitles) that unfolds with more than what one might expect, even as described so far. The man, the woman, the boy, the situations in which people find themselves in order to make a living and get a reasonably good taste of living a life – no matter what it brings, especially for the woman.
Stephanie is easy to love in "Rust and Bone" and for ginning up one's empathy. Alain is, shall I say, flexible in his way. It's what I love about the French. Generally, Gallic culture subscribes to the concept that people are made of numerous qualities. Alain's persona reflects from many "shards of a shattered mirror." He makes you think, suggesting that there is some of Alain in us all.
Audiard and his co-writer, Thomas Bidegain (both did "Le Prophete"), draw a moviegoer back from the front-row action of the moment at several places in "Rust and Bone," using silence, slow motion, the fading under of dialogue that's not really important, while the visual poetry flows, sometimes aided by music that's "not" quite appropriate to the scene at hand … and … still appearing that everything is happening in a semblance of randomness that shouts reality.
I haven't seen them all, but "De roullie et d'os" is surely one of the very best of 2012. I'd say that you make plans to see it, soon.

Latest posts by Gary Chew
(see all)