"Fat cat initiative" reins in exorbitant Swiss corporate pay

by Andrea Germanos,
Common Dreams

[This is not fake news. On most sites, they have to point out when it is fake news, on this site, especially with a shocking article like this, we feel we must point out when it is not fake news!]
On Sunday Swiss citizens voted overwhelmingly to rein in exorbitant executive pay.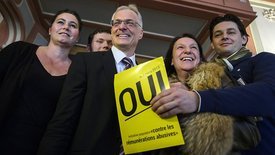 With the backing of nearly 68% of voters, Agence France-Presse reports that the so-called "fat cat initiative" would limit the mandate of board members to one year, and would ban certain kinds of compensation, including the so-called golden handshakes or golden parachutes given to executives when they leave a company.
In addition, it would ban the bonuses received for takeovers, or when a company sells off part of its business.
BBC adds that it would give shareholders a veto on compensation and ban big payouts for new and departing managers.
"Today's vote is the result of widespread unease among the population at the exorbitant remuneration of certain company bosses," Justice Minister Simonetta Sommaruga told reporters in Bern after the vote.
The country's direct democracy system allowed for the vote to take place, Reuters points out:
While anger at multi-million dollar payouts for executives has spread around the globe since the financial crisis, Swiss direct democracy – including four national referendums a year – means public outrage can be translated into strong action.
Days before the Swiss vote, the EU parliament approved a plan to cap bonuses for financial executives and bankers.
_____________________________
This article is from Common Dreams, and is licensed under a Creative Commons Attribution-Share Alike 3.0 License.