Single mom led fifty community members onto the stage to confront Wells Fargo CEO John Stumpf
CARLSBAD, CA – Today, dozens of homeowners and supporters joined Betty Badro in confronting Wells Fargo CEO John Stumpf  at a banker's conference on the day before her home of 19 years is scheduled to be foreclosed.  Ms. Badro, who has worked for the State of California for 22 years,  attempted to deliver a personal check to Wells Fargo CEO John Stumpf while he was giving a keynote address at the American Banker Retail Lending Conference at a luxury beach resort hotel in Carlsbad, California.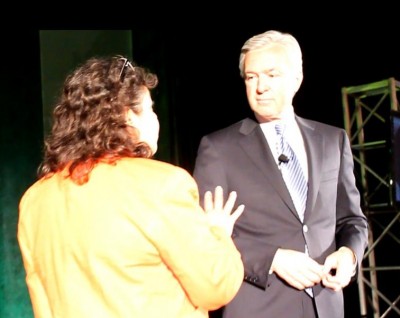 Betty has spent months attempting to get Wells Fargo to consider her for a loan modification. Betty lives with her disabled brother and one of her two children, and suffered recent financial setbacks due to state furloughs and personal health issues.  Her finances have now recovered, a HUD-certified housing counselor has reviewed her case, and believes that Ms. Badro qualifies for a loan modification.
Ms. Badro took the stage, shook hands with Mr. Stumpf, and proceeded to explain that his bank was poised to take her home the next day. She told Mr. Stumpf that she can afford the mortgage and had a check in hand that she was asking him to accept.  Not saying another word, Mr. Stumpf turned his back on Ms. Badro and left the stage.  The group of homeowners took over the stage and made a presentation outlining how Wells Fargo has failed the community and the changes that Wells Fargo should make in their foreclosure practices.
"I've been working hard all my life," says Betty Bardo, member of Alliance of Californians for Community Empowerment (ACCE).  "I have income, I want to pay my mortgage, I just want a modification with principal reduction so that I can stay in my home.   It is everything to me.  John Stumpf and Wells Fargo are raking in money – they just had their most profitable year ever –  but they're profiting off the homes and livelihoods of American families."
Video of the confrontation:
The event was organized by the ACCE Home Defenders League and Occupy Fights Foreclosures.
Thursday's event was part of a broader campaign of ACCE and the Home Defenders League to push Wells Fargo to change their practices in order to reduce foreclosures.  The groups are calling on Wells Fargo to:
Make principal reduction a core front-end strategy when considering loan modifications;
Release data on race & income of the homeowners they foreclose on, evict or assist.
Stop all foreclosures and evictions stop until these steps are put into place.
On Tuesday, March 12th a report was released documenting the devastating impact on homeowners, communities and the economy unless Wells Fargo reverses its course and averts some or all of their impending foreclosures.  Click here to see the report: devastating impact of Wells Fargo's foreclosure pipeline.  The report, California in Crisis: How Wells Fargo's Foreclosure Pipeline Is Damaging Local Communities, was written by ACCE (Alliance of Californians for Community Empowerment), the Center for Popular Democracy and the Home Defenders League.
The report uses data from Foreclosure Radar to look at loans currently in the foreclosure pipeline in California – meaning loans that have a Notice of Default or Notice of Trustee Sale. Of the 65,466 loans in the foreclosure pipeline, close to 20% of them are serviced by Wells Fargo.
Wells Fargo is servicing the most loans, but trails behind Bank of America and Chase when it comes to the amount of principal reduction given with first lien loan modifications, according to the Monitor of the multi-state Attorneys General settlement with the five big mortgage servicers.

ACCE is a statewide community organization of low and moderate income families and is a statewide anchor of the national Home Defenders League – a network of homeowners fighting back against Wall Street to save their homes.  ACCE was a leader in pushing for the passage of the groundbreaking Homeowner Bill of Rights, passed in California in 2012, and along with the state Home Defenders League has saved thousands of families from foreclosures and evictions and has won tens of millions of dollars in principal reduction for families to reinvest in their communities.