Los Angeles Times to be an extension of Fox News?
LOS ANGELES, CA — In a new petition by the California-based CourageCampaign.org, over 10,000 Californians are joining Gabe Smalley in urging the Tribune Company, publishers of the Los Angeles Times, not to sell the paper to David and Charles Koch or any other political propagandists.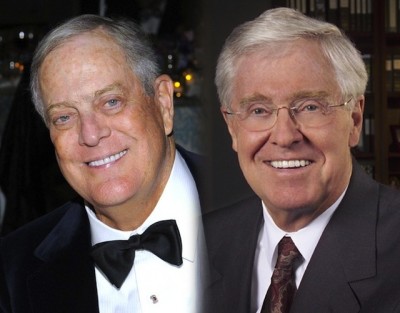 The petition comes after the Hollywood Reporter and LA Weekly reported on March 12th that the Koch Brothers wanted to buy the Los Angeles Times to further their radical right-wing agenda and move fringe Tea Party ideas into the mainstream.  So far, more than 10,000 people have signed the petition calling on Tribune Company President Peter Liguori to refuse to sell the paper to political propagandists.
CourageCampaign.org is also raising money to place an ad in the Los Angeles Times, urging the company not to become the next Fox News.
"The Koch Brothers are the worst of the worst. Oil and gas billionaires, they're known for funding the Tea Party, buying elections, funding anti-science organizations, union busting, dodging taxes, and twisting democracy any way they can to promote their personal agenda," said Gabe Smalley, Rapid Response Organizer for CourageCampaign.org.
"They cannot be allowed to purchase one of the most respected newspapers in the country in the second biggest media market in order to peddle their discredited ideas and right wing propaganda," he said. "Millions of Angelenos count on the Los Angeles Times for real facts, real issues, and unbiased information. The L.A. Times endorsements in local and statewide elections carry substantial clout. The Koch brothers cannot be allowed to control this vital source of information.  The owners must know that this can't just be about money, the LA Times is too important to the community and the region."
FIND OUT MORE ABOUT THE L.A. TIMES ADVERTISING EFFORT HERE
# # # # #
CourageCampaign.org is an online organizing network that empowers more than 750,000 grassroots and netroots activists to push for progressive change and full equality in California and across the country. As a leading multi-issue advocacy organization, Courage Campaign's work is supported by thousands of small donations from our diverse community.
For more information, or for interviews with CourageCampaign.org, please contact Brett Abrams at 516-841-1105 or by email at [email protected].